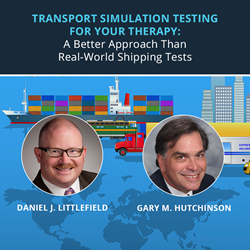 We have used the transport simulation methodology and validation master plan strategy outlined in the webinar in more than 90 successful regulatory interactions since 2017," said President Gary Hutchinson
HOUSTON (PRWEB) December 16, 2020
Modality Solutions, a biopharmaceutical cold chain engineering firm, hosted a live webinar covering:

How accelerated sequential testing alone (e.g., ASTM, ISTA) is no longer acceptable by the FDA for drug product testing
Why real-world testing cannot test the worst-case edges of your operating space
How real-world testing in the post-COVID-19 world will be difficult, time-consuming, and expensive
The December 2, 2020 webinar was well received and attended by complex cold chain biopharmaceutical industry leaders. Due to the high volume of interest in the topic, Modality Solutions is providing free on-demand replays of the 45-minute presentation. Click here to access the transport simulation testing vs. real-world testing webinar.
Globally recognized industry experts Gary M. Hutchinson and Daniel J. Littlefield presented the webinar "Transport Simulation Testing for Your Therapy: A Better Approach Than Real-World Shipping Tests" in conjunction with Pharmaceutical Technology and Business Review Webinars.
Modality Solutions has access to the latest regulatory agency requirements for emerging new therapies and shares how to validate your biopharmaceutical cold chain with transport simulation successfully.
Four of the valuable webinar learning objectives include:

Integrating transport simulation testing for environmental hazards into your filing strategy
Understanding why ASTM and ISTA package testing is not acceptable for drug product testing
Learning the challenges of real-world testing and why it is less reliable than transport simulation
Discussing the challenges to real-world shipment testing in a post-COVID-19 transportation network
"Real-world testing cannot test the worst-case edges of your operating space," said Modality Solutions President Gary Hutchinson. "No single (or multiple) real-world shipment can ever confirm testing for all the transportation hazards concurrently. We have used the transport simulation methodology and validation master plan strategy outlined in the webinar in more than 90 successful regulatory interactions since 2017."
Modality Solutions' unique Advantage Transport Simulation Laboratory™ can concurrently submit drug products to the following environmental conditions--temperature, relative humidity, light, shock, and vibration. This testing assures product physical integrity, purity, efficacy, quality, and safety. The lab integrates stability data on any drug product with its validation strategy and transport simulation methodology. The testing provides assurance, especially if the drug product is highly sensitive to the transportation network's environmental hazards.
Business Review Webinars (BRW) is a thought leadership portal for business professionals in the pharmaceutical, healthcare, food & beverage, energy, packaging, supply chain, and technology industries. Its goal is to create a high-level discussion between industry thought leaders and business professionals who are actively facing the day-to-day challenges of their respective industries.
Click here to access the on-demand replay of Modality Solutions' "Transport Simulation Testing for Your Therapy: A Better Approach Than Real-World Shipping Tests."
About Modality Solutions, LLC
Founded in 2011, Modality Solutions, a leading biopharmaceutical cold chain validation engineering firm, specializes in integrating cold chain operations, developing transport validation strategies, supporting global regulatory applications, and global clinical trial operations. Modality Solutions' team of engineers are experts at delivering cold chain thermal packaging design and qualification and conducting transport simulation testing with its unique Advantage Transport Simulation Laboratory™. As a 2019 and 2020 Inc. 5000 and Houston Business Journal Fast 100 company, its engineers combine the best practices of process validation, systems qualification, and risk assessment. Modality Solutions has earned the reputation of ensuring regulatory compliance, drug product quality, and patient safety. For more information, visit https://www.modality-solutions.com.