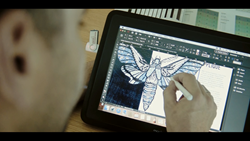 The new Modbook Pro X with Touch Bar is the culmination of the company's successful Kickstarter campaign, developed and designed in close cooperation with members of the creative Mac community that originally backed the project, and I believe it is now the most capable tablet ever created
Los Angeles, CA (PRWEB) September 14, 2017
Modbook Inc., a privately held creative technologies developer, today announced its first equity crowdfunding (Regulation Crowdfunding, "Reg CF") campaign aiming to become the first crowd-owned Mac tablet solution provider. The company also introduced the all-new 15.4-inch Retina® display Modbook® Pro X with Touch Bar™, its first product designed by Mac® creatives for Mac creatives and the first ever convertible macOS®-based pen tablet computer. Visit the campaign page at http://wefunder.com/modbook for more information.
MAKING THE MAC TABLETS THAT APPLE WON'T
Modbook is the sole source of pen-enabled macOS tablets for creative professionals who need their computers for more than email, internet access, and note taking. In 2017, architects, engineers, designers, and other creatives are expected to spend an estimated $1.9 billion to create workaround solutions combining pen-input capabilities with the power, performance and portability of their preferred Mac laptops.
Apple's extremely successful business model is built on an effective and deeply ingrained platform strategy of distinctively splitting their mobile offerings into macOS-based, mouse/keyboard-enabled notebooks on one side vs. iOS-based, touch/pen-enabled iPhone/iPad tablets on the other. This strategy is successfully serving the general consumer market and generated last year over $275 billion in revenues. However, this also creates the need for Modbook's macOS tablet solutions, because creative users that need the power, performance, and portability of a laptop but also require advanced pen capabilities to draft, design, and create are left without a single system solution.
Representing less than 1% of Apple's annual revenue, Modbook's target market does not represent a large enough incentive for Apple to abandon it's profitable two platform strategy in order to create a solution for this niche market, or as Apple CEO's Tim Cook says: "Apple feels strongly that [consumers] are not looking for a converged Mac and iPad".
This week's Apple event keynote again demonstrated the commitment to the general consumer market, as the key feature enhancements in the new iOS 11 for the iPad Pro and the Apple Pencil focus on better supporting general applications needs of consumers, reinforcing the perfect opportunity for a niche-product like the Modbook Pro X with a laser sharp focus on the creative industries.
LAUNCHING COMPANY'S FIRST EQUITY FUNDRAISING OPEN TO EVERYONE
Following its impressive Top 100 Kickstarter success for the Modbook Pro X project, raising over $400,000 in 40 days, Modbook Inc. initially kept on the proven funding path for startup companies and opened a fundraising round late last year which was, as is traditional, only open to so called "Accredited Investors", meaning high-net-worth individuals or entities. That round reached over $1.3 million in reservations but also highlighted a high level of interest coming from non-accredited investors, further encouraging the company to pursue its intention to become community-owned and allow everyone to become a shareholder.
Unlike traditional crowdfunding campaigns run on platforms like Kickstarter and Indiegogo, where backers only receive recognition or product rewards, Modbook Inc's Regulation Crowdfunding campaign through the SEC-registered and FINRA-regulated platform Wefunder enables investors to purchase an equity stake for as little as $100 and share equally with all other shareholders in the potential future financial success of the company.
For a limited time, investors that move quickly can take advantage of a special Early Bird bonus and purchase their shares in the company at a significant discount.
"Being directly driven by the community that our products are meant for has been an incredible experience so we decided to provide our Kickstarter backers with Stock Options equivalent to a full 5% of our company, in addition to the Modbook Pro X rewards they'll be receiving once we begin shipping. By launching this true equity crowdfunding fundraiser, we're taking the next natural step to make our company the first community-owned Mac tablet maker," said Andreas Haas, Modbook Inc.'s Chief Executive Officer and Lead Engineer.
INTRODUCING THE MODBOOK PRO X WITH TOUCH BAR
Like its predecessors, the award-winning Modbook and the Modbook Pro, the new Modbook Pro X is a unique and innovative computer modification product. The all-new, re-designed Modbook Pro X enclosure conversion kit incorporates and completely encases the original hardware of a new Apple® MacBook® Pro 15.4-inch base system running macOS High Sierra™.
Tablet-to-laptop convertible with the optional Keyboard Stand™, the Modbook Pro X's light-but-tough design features an advanced, all-aluminum airframe construction with a built-in flip-out presentation stand and the Modbook MonoProp Mount™, which allows for multiple landscape configurations and introduces a portrait mode setup — another first for tablet computers. The MonoProp Mount doubles as a standard tripod screw mount, making the Modbook Pro X perfectly suited for use on set and stage. With it's re-designed 3D-GripFeet™, users can now position the tablet all the way up to 90 degrees on all sides without slipping.
The state-of-the-art pen-enabled 15.4-inch Apple Retina display supports pen tilt and rotate, as well as best-in-class pen pressure sensitivity for maximum pen precision and control. Located next to the display is the multi-touch Apple Touch Bar, a retina display bar providing dynamic, context-specific interface controls that push man-machine interaction to new levels. While very useful on notebooks, the Touch Bar is a game changer for tablet computers, and will be exclusively available on the Modbook Pro X. While working with the pen, the included multi-function Touchpad Remote™ fits comfortably into the palm of the other, normally idle hand, enabling simultaneous secondary touch and gesture input, kicking creative workflows into the next gear. In laptop mode, it mounts in the optionally available Keyboard Stand, where it serves as a fully featured multi-touch trackpad. This unique feature combination provides creative users with the most advanced interface suite to-date.
The configurable base system for the Modbook Pro X includes an up to 3.1GHz quad core Intel® Core™ i7 processor, up to 16GB of RAM, an Intel HD Graphics 630 chipset and up to a Radeon® Pro 560 with 4GB of GDDR5 memory and automatic graphics switching, 802.11ac Wi-Fi (IEEE 802.11a/b/g/n compatible) and Bluetooth® 4.2 wireless connectivity capability, three external Thunderbolt® 3 (USB-C®) ports supporting charging, DisplayPort®, Thunderbolt (up to 40 Gbps), USB® 3.1 Gen 2 (up to 10 Gbps), a built-in 76.0-watt-hour lithium-polymer battery and a 87W MagSafe® power adapter.*
The internal storage array of the Modbook Pro X is comprised of up to 2TB non-upgradeable onboard flash memory with up to two 3GB/s read speeds plus up to two more upgradeable flash memory modules driven by a custom chipset allowing the two modules to be configured as either two separate drives (maximum of two 2TB continuous volumes with up to two 3GB/s read speeds), one Mirrored Safe-storage™ drive (maximum of one 2TB continuous volume with a 1:1 realtime 2TB backup and up to two 3GB/s read speeds), or one Striped Double-speed™ drive (maximum of one 4TB continuous volume with up to 6GB/s read speeds). Combined, the Modbook Pro X offers an unprecedented 6TB of internal PCIe-based SSD storage — triple the maximum capacity of any MacBook Pro, and up to 13 times faster (in Striped Double-speed™ mode) or 200% safer (in Mirrored Safe-storage™ mode), and with more capacity than any other SSD-equipped laptop or tablet computer on the market.
The Modbook Pro X supports up to three external 4096-by-2304 resolution or up to two 5120-by-2880 resolution displays and can be further expanded with the use of external Thunderbolt-to-PCI expansion enclosures.
Taken together, the Modbook Pro X's power, capacity, versatility and high-resolution pen input makes it one, if not the most capable, portable computer solution for creative and power/performance dependent Mac users.
"The new Modbook Pro X with Touch Bar is the culmination of the company's successful Kickstarter campaign, developed and designed in close cooperation with members of the creative Mac community that originally backed the project, and I believe it is now the most capable tablet ever created for the creative industries," said Andreas Haas, Modbook Inc.'s Chief Executive Officer and Lead Engineer.
MODBOOK PRO X PRICING AND AVAILABILITY
The manufacturer's suggested retail price of the Modbook Pro X* will be $4,898. Customers that already own a compatible 15.4-inch Retina®-display Apple® MacBook® Pro can order the We-Mod-Yours transformation service starting at $2,499.
Following the successful closing of the crowdfunding campaign, the new Modbook Pro X is slated to begin shipping in the United States in late winter.
For more information on the equity crowdfunding fundraising as well as the upcoming Modbook Pro X, visit http://wefunder.com/modbook

The Modbook Pro X is an enclosure conversion kit that transforms an original Retina-display Apple MacBook Pro notebook-style computer into a tablet-style computer. Apple Inc.'s warranty on the MacBook Pro base system is voided by the conversion and replaced with the Modbook Protection Plan, which covers the entire hardware solution, including the base system. Modbook Inc. is not affiliated with, nor is the Modbook Pro X sponsored or endorsed by, Apple Inc.
About Modbook Inc.
Modbook Inc. makes the macOS tablet computers that Apple won't. The company's multi-national team has developed a worldwide brand with products delivered to customers in 70 countries. Founded in 2012 and privately held, the company and its dedicated team are headquartered in Los Angeles, California, and at http://www.modbook.com.
Modbook, Touchpad Remote, Keyboard Stand, 3D-GripFeet, Mirrored Safe-storage, Striped Double-speed and MonoProp Mount are trademarks or registered trademarks of Modbook Inc. in the U.S. and/or other countries. Apple, Mac, MacBook, macOS, Retina, FaceTime, High Sierra and Touch Bar are trademarks or registered trademarks of Apple Inc. in the U.S. and/or other countries. Intel, Core and Thunderbolt are trademarks or registered trademarks of Intel Corporation in the U.S. and/or other countries. Other company and product names may be trademarks of their respective owners.