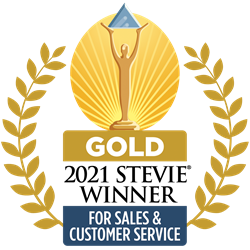 "We've built Mode's CS Operations from the ground up around our core values of transparency, visibility and automation," said Asha Hill, Senior Manager of Customer Support and Success Operations, Mode Analytics
SAN FRANCISCO (PRWEB) February 04, 2021
Mode Analytics, the most comprehensive platform for collaborative business intelligence and interactive data science, today announced that it has earned a 2021 Gold Stevie® Award for Sales and Customer Service in the category of "Front-line Customer Service Professional of the Year, Technology Industries."
The Stevie Awards for Sales & Customer Service are the world's top honors for customer service, contact center, business development and sales professionals. The Stevie Awards organizes eight of the world's leading business awards programs, also including the prestigious American Business Awards® and International Business Awards®. Winners will be recognized during a virtual awards ceremony on April 14, 2021. More than 2,300 nominations from organizations of all sizes and in virtually every industry, in 51 nations, were considered in this year's competition. Winners were determined by the average scores of more than 160 professionals worldwide on nine specialized judging committees. Entries were considered in more than 90 categories for customer service and contact center achievements, including Contact Center of the Year, Award for Innovation in Customer Service, and Customer Service Department of the Year.
"I am beyond humbled by this honor, and so incredibly proud of what our team has achieved in the past year," said Asha Hill, Senior Manager of Customer Support and Success Operations, Mode Analytics. "We've built Mode's CS Operations from the ground up around our core values of transparency, visibility and automation. This approach has enabled us to maintain industry-leading response times while maintaining top CSAT scores, and provide optimal coverage and support for Mode's growing customer base."
Since its inception, Mode's new Customer Support (CS) Team has consistently maintained a CSAT Score of more than 94%, a considerable achievement given the rapid growth and external dynamics fielded by the team in 2019-2020. In addition, the Team's Median First Response time has decreased by over 33%, from 9 minutes in August 2019 to less than 6 minutes in October 2020, with all ticket responses handled by an agent. For complex technical tickets, the response time has decreased by 50%, from 16 hours in August 2019 to 8 hours in October 2020, with an average time-to-close of 6 hours.
In addition to this Gold Stevie Award, Mode recently won a Silver Best in Biz Award for Best New Enterprise Product of 2020, and a Gold Award for "Best Business Intelligence Analytics Solution" from NPG's IT World Awards. Mode is also the recipient of eight Winter 2021 G2 Leader Awards, with the highest Implementation Index score in the Embedded Business Intelligence and Analytics Platform categories, ranked by customer satisfaction (based on user reviews and social data) and market presence (based on market share, seller size, and social impact).
For more information about Mode Analytics, please visit https://mode.com/.
About Mode Analytics
Mode's advanced analytics platform was designed by data experts for data experts. It allows data scientists and analysts to visualize, analyze, and share data in a powerful end-to-end workflow that covers everything from the exploration stages to a final, shareable product. Unlike traditional business intelligence tools that produce static dashboards and reports, Mode brings the best of BI and data science into a single platform, offering the best way to empower everyone at your organization to use data to make high quality, high velocity decisions. Mode also supports the analytics community with free learning resources such as SQL School, open source SQL queries, and free tools for anyone analyzing public data. To start a free trial or learn more, visit https://www.mode.com.
###