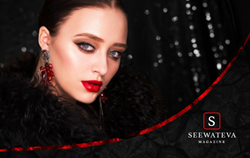 NEW YORK (PRWEB) April 09, 2020
Seewateva Magazine, being focused on developing and revealing talents within all the model industry, has become a number 1 model magazine featuring the hottest models across the nation. CEO of Seewateva, Mr. Prez, is deeply concerned with the challenges fresh talents are facing now: "Seewateva is an experienced player in the field. We know that it is crucially important to help to maintain the new models' environment, not to discourage new talents from moving ahead. It must be scary to think that you are all on your own, that no one cares about your ambitions and goals seem to be null. But we, at Seewateva, realize that support these days is crucial, so being passionate about discovering and carrying about freemen in the field, we are grounding affordable solutions for models to be featured on our pages. We decided not to gain any income from new talents, so we are providing the lowest rates for their promotion".
Seewateva Promotion rates for shout outs are as follows:
$20 - 1-time deal
$40 - 2 publication per week
$60 - 3 releases per week, with 1 page VIP publication
$100 - 30-days release shout out coverage, with 2 posts on a page.
All the details and questions about the promotion can be addressed to the contacts mentioned below.
Press Contact:
seewatevamagazine@gmail.com
(718) 865-6467
https://www.instagram.com/seewateva_magazine/
https://seewatevamagazine.com/
This release was published in collaboration with Exclusive PR Solutions