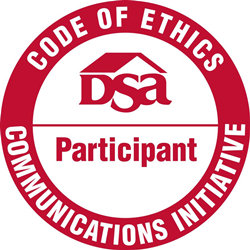 "The high, ethical business principles and practices set by the DSA are commensurate with our own standards here at Modere. We are proud to be a member of the DSA and will continue to espouse the protections and integrity that their Code provides for the market and its consumers." Asma Ishaq, CEO
LOS ANGELES (PRWEB) September 04, 2019
The Direct Selling Association (DSA) has recognized Modere, the first social retailer to create a safe and forward-thinking approach to overall wellness, for its efforts in upholding and generating enhanced awareness of the DSA's robust business ethics and consumer protection standards.
Since 1970, the DSA has required its member companies to implement and abide by the association's market-leading Code of Ethics as a criterion for initiation and continuing membership. The association developed the Code of Ethics Communication Initiative (CCI) to help encourage and promote the education and communication of its Code of Ethics among member companies, members of the field, and the general public.
Modere has been recognized as one of only 32 companies for its coordinated, purposeful efforts in promoting adherence to the Code within the company and its salesforce, as well as with its consumers. To qualify for CCI recognition, companies must complete at least five of sixteen recommended activities to increase awareness of the DSA Code. Those activities, which are reviewed and verified by the DSA's Code Administrator, include engaging a member of the DSA to present to key company employees and/or to members of the field salesforce, providing training on the DSA Code of Ethics for members of the salesforce, including a copy of the complete DSA Code of Ethics in the company's policies and procedures manual, or including a copy of an article about the Code of Ethics in the company's print or electronic newsletter.
"The high, ethical business principles and practices set by the DSA are commensurate with our own standards here at Modere," said Asma Ishaq, CEO of Modere. "We are proud to be a member of the DSA and will continue to espouse the protections and integrity that their Code provides for the market and its consumers."
About Modere
Modere (http://www.modere.com) offers a category-leading portfolio of live clean lifestyle essentials including beauty and personal care, health and wellness, and household products that are equal parts safe, high-performing and scientifically designed. We believe modern health involves pure nutrition, a clean environment and safe ingredients across all our product categories. Modere brings a holistic, live clean approach to well-being, and our products reflect a commitment to excellence and innovation with tested formulas proven around the globe. The recipient of multiple third-party validations, our line includes products that are EPA Safer Choice-approved, EWG Verified™, NSF Certified and gray-water safe. The company is a proud supporter of Vitamin Angels®.