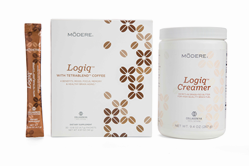 With Modere Logiq™ Creamer and Logiq™ with TetraBlend™ Coffee we have set out to deliver the whole package in your cup of coffee, tea, or smoothie- collagen and MCTs- beauty and brains," Asma Ishaq, CEO of Modere
LOS ANGELES (PRWEB) February 28, 2019
Modere (the "Company") announced the launch of two new product additions to their acclaimed Collagen Sciences product line at the annual North American Convention in Salt Lake City, Utah on Friday, February 22. A healthy, safe and clean-lifestyle brand of dietary supplements, household and personal-care products with a presence worldwide, Modere has developed a keto-friendly, collagen-enhanced creamer and proprietary coffee blend that deliver high-quality brain fuel and cognitive support, as well as all of the joint and skin benefits of the company's award-winning Collage/HA Matrix® Technology when paired with another product with Collage/HA Matrix® Technology.
"The inspiration for Logiq™ with TetraBlend™ Coffee and Logiq™ Creamer surfaced from our consumers. Many of them wrote in to say that for taste and convenience they were adding Trim, our collagen-based, best-selling weight management product, to their morning coffee, and loving it. We coupled that insight with the known brain-fueling benefits of MCTs and set out to deliver the whole package in your cup of coffee, tea, or smoothie- collagen and MCTs- beauty and brains," said Asma Ishaq, Chief Executive Officer of Modere.
Modere Logiq™ with TetraBlend™ Coffee is a proprietary blend formulated to support four key areas of cognitive function: mood, focus, memory, and healthy aging. Ingredients include Bacopa monnieri, a nootropic that supports mood, memory, and retention; L-theanine, an amino acid that works synergistically with caffeine to significantly increase alpha brain waves and support cognitive performance, including improved attention and concentration; coffee fruit extract from coffee berries to support the production of the neuroprotein BDNF, which aids learning, memory, and higher thinking; and caffeine from green tea extract and coffee to help support the brain as it ages.
Modere Logiq™ Creamer features a blend of highly beneficial C8 medium-chain triglyceride fatty acids (C8 MCTs) and grass-fed butter that readily converts to ketones to boost energy and fuel the brain. A great alternative to regular creamer, Modere Logiq™ can be used to elevate a morning cup of coffee or for a delicious, energizing boost in tea, smoothies, oatmeal, or any beverage or food.
Modere Logiq™ with TetraBlend™ and Logiq™ Creamer both contain Liquid BioCell®, Modere's gold standard, multi-patented, award-winning collagen/HA (hyaluronic acid) nutraceutical. Liquid BioCell® delivers a unique, naturally-occurring matrix of hydrolyzed collagen type II, HA, and chondroitin sulfate to the skin, joints, and connective tissues of the body in an ideal molecular weight that the body can effectively and easily absorb, deep into the tissues. When combined with other Liquid BioCell® products, Modere Logiq™ delivers Collagen/HA Matrix® Technology's joint-lubricating and skin beautifying benefits to coincide with the coffee and creamer's brain-boosting potential.
Modere Logiq™ with TetraBlend™ Coffee and Logiq™ Creamer are both keto-friendly and gluten free. The non-GMO Logiq™ Creamer is available as a convenient, portable powder. Logiq™ with TetraBlend™ Coffee is sold in user-friendly stick packs and is sugar free.
About Modere
Modere (http://www.modere.com) offers a category-leading portfolio of live clean lifestyle essentials including beauty and personal care, health and wellness, and household products that are equal parts safe, high-performing and scientifically designed. We believe modern health involves pure nutrition, a clean environment and safe ingredients across all our product categories. Modere brings a holistic, live clean approach to well-being, and our products reflect a commitment to excellence and innovation with tested formulas proven around the globe. The recipient of multiple third-party validations, our line includes products that are EPA Safer Choice-approved, EWG Verified™, NSF Certified and gray-water safe. The company is a proud supporter of Vitamin Angels®.