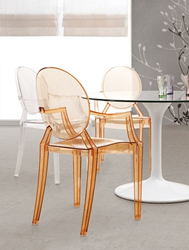 Transparent chairs are often chosen for the fact that they're see-through, because they keep can help keep a small room from looking too crowded without reducing the amount of available seating.
(PRWEB) October 22, 2014
HomeThangs.com – the Online Home Improvement Store has made it their goal to deliver the right product to the consumer. With that in mind, shopping and home design tips, as well as special product selections are being introduced.
Plastic chairs have something of a bad reputation. The phrase alone evokes images of cheap outdoor chairs and flimsy kid's furniture. But high end, durable plastics have become a darling of modern design, particularly chairs made of clear polycarbonate. HomeThangs.com has introduced a new guide to these versatile, contemporary chairs, as well as a few of the styles they work well with.
Clear plastic chairs are a natural pair for very chic modern spaces; the more minimalist or severe a room, the more modern these chairs will feel. But the opposite is also true: in a more relaxed, natural space and combined with more rustic materials, transparent chairs serve instead to add a lighter designer touch. Because they're clear, these chairs figuratively blend with just about any type of decor, but act as an even more eye-catching accent the less modern the space.
Polycarbonate chairs are also valued for their literal clarity. Because it's possible to look right through them, they make good accent chairs for crowded spaces. Where an ordinary chair would block line of sight, clear chairs are a bit more dynamic and fluid. Small dining rooms, breakfast nooks, dressing tables, and cramped work stations all feel airier and more open when paired with a clear chair rather than a traditional one. These rigid plastic chairs are also quite durable, suitable not only for outdoor use but also in spaces that normal chairs wouldn't fare well, like the shower.
To see some of these gorgeous chairs in action, check out the full article here.
HomeThangs.com is not only a home improvement superstore, it also provides expert design tips and a comprehensive shopping guide, taking the ideas from professional interior designers, and offering tips to the consumers on how to pick the products to best suit their needs.