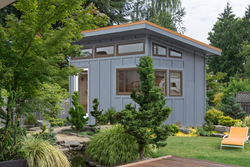 The Sheds Unlimited design team has been dreaming of developing modern studio sheds for several years
Gap, PA (PRWEB) June 24, 2016
When we thought Amish storage sheds could not get any better, Modern Sheds from a small business on a farm in rural Amish country hit the market. These newly released modern sheds and studios come with a contemporary design that is hard to find in rural Amish Lancaster County.
While there has been much innovation in the Amish shed and garage industry, none has taken such a bold move toward Modern Shed Designs as Sheds Unlimited of Lancaster County, PA. Like many other Amish shed builders, this business located on the fourth generation family farm began building standard storage shed lines and moved on through custom garage designs that now display on their website. But the Modern Sheds in both the Studio 1 and the Urban 360 take a path of their own.
At first glance these new modern sheds look nothing similar to an Amish Shed of times past. A flat roof with standing seam metal roof, combined with straight lines, responsibly harvested accent wood and a fiber cement siding application put the modern sheds just released and showcased on their website, in a class of their own.
"The Sheds Unlimited design team has been dreaming of developing modern studio sheds for several years already", says marketing director Chris Stoltzfus, "but time and plenty of work were the holdup." However, last winter and into the spring the Modern Sheds ideas started coming together. It was a huge project that needed many new product sources, design ideas and construction skills.
Modern sheds throughout the USA have become popular as a modern backyard office, modern art studios, a getaway at home or an extra room for someone who needs more space but does not want to buy another home. With a modern studio shed, one can experience more of life and "make a modern statement" all at once. And even though the price for Modern Sheds and Studios will be higher than a standard Amish Shed, they can really be money saving solutions. Now rather than selling the home and buying a larger one, or rather than renting office space, a modern prefab shed can be an outdoor living solution or an office space all-in-one.
For the business which started as a family operation on the family farm, the new shed is Modern. Not doubt, the modern look contrasts in many ways with the old ways of the country farm, but Amish Shed builders seem to continue to recreate themselves over and over again. And in this case, Modern is the new Amish!