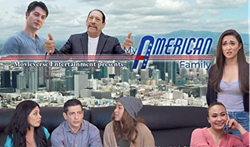 Danny Trejo says "I love the concept of the show. It's very funny!"
LOS ANGELES (PRWEB) April 28, 2021
My American Family, streaming on Amazon, mixes modern families from Latino and Chinese cultures with authenticity and humor. The single-camera, 10-episode comedy features a rich and diverse cast of Steve Jacques (Assassin's Game), special guest star Danny Trejo of Machete fame, Magi Avila (First Kill), Michelle Waterson (UFC celebrity), Marilyn Flores (Sleight), and newcomer Kimberly Yee. The series creator European, Victor Migalchan, based the comedy on his real-life story and also stars in the series.
"Being able to tell my story and work with such great actors like Danny Trejo and the rest of the cast, present authentic Chinese, Latino, Jewish, European cultures, show how they coexist and unite as well as good-hearted family values on the top level in Hollywood is truly my American dream come true," states Migalchan.
Danny Trejo says "I love the concept of the show. It's very funny!"
"It is an amazing feeling, when you tell the stories of immigrants and their cultures, how they coexist in a real pure way. Having an international team working on this project really enriched the story," states executive producer Zhiliang Tang.
Coming to America to fulfill the 'American Dream' can be challenging. That's the case for Alex Romanovich (Miglachan), having lived in China for many years, he arrives in the US to live with his homestay Mexican-American family. After the initial shock of having Alex living in their house, life is never the same as his unexpected good influence touches everyone.
The father Miguel (Jacques) has his hands full with pressures from his boss at the car dealership (Trejo), his wife Victoria (Avila) who is trying to be more than a housewife, a young daughter Phoebe (Flores) struggling with her sexual identity, but also his own unrealized dreams until he meets Alex. Even the daughter's best friend Kimi's (Yee) direction in life shifts as a result.
Victor Migalchan produced with Zhiliang Tang under his Movieverse Entertainment LLC banner with an international team. He is also developing another series Modern Kungfu aka The Master and the Apprentice, an intercultural cooking show Dragon Chef, as well as books on relationships and how he made his first TV series. Migalchan holds cultural and educational master's degrees, speaks multiple languages, and has an international business background. He currently is taking advantage of his award-winning martial arts skills to offer free self-defense classes in the Los Angeles area to help protect those that have been targets of racial attacks.
My American Family credits include Story: Victor Migalchan, Executive Producer; Zhiliang Tang; Co - E. P. Kimbery Yee, Co - writers: Alex Kotsyk and Matthew Clark; Producers: Edward Cologna and Victor Migalchan; Directed by Victor Migalchan. Production Manager: Kimi Yee; Director of Photography: Alex Flash, AD: Alex Fedosov AD: Kimberly Yee, Sound Design: Alex Anikin, George Dana.