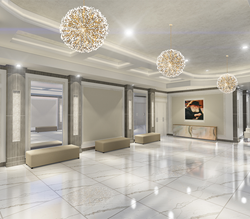 Perla Lichi sets a modern glamour trend with her interior design of the new Chabad of Parkland, Florida.
PARKLAND, Fla. (PRWEB) September 15, 2019
Luxury interior designer Perla Lichi has designed interiors for the new Chabad of Parkland, FL, https://www.chabadofparkland.com at 7170 Loxahatchee Road. Executed in different shades of blues, greys, silvers, whites and ivories, these new interiors reflect the glamorous look that the congregation wanted. The new Chabad interiors are at once original, modern, fresh, and family-friendly.
Perla Lichi Design https://www.perlalichi.com has been lauded by the congregation for creating awesome spaces that have "serene spiritual energy which radiates the holiness of the Torah."
Upon entering the Chabad, one enjoys a true sense of arrival. Textured metallic wallpapers fill applied molding wall panels. Custom woodwork columns are enhanced with mother-of-pearl inserts. Silver-leafed custom ceilings and glamorous crystal chandeliers add glittering beauty. Controlled LED lighting creates sparkling reflections off of these enhancements and can be brightened or dimmed depending on the time of day and desired ambiance, whether for regular services or special occasions.
A feature wall honors Rabbi Menacham Mendel Schneerson (1902-1994). Rabbi Shneerson is one of the most influential Jewish leaders of the 20th Century and the last Lubavitcher Rebbe. He is widely recognized as the force behind the global advancement of the Chabad movement. Off to one side is the daily prayer chapel. The chapel is adorned with beautiful custom woodwork that coordinates with the rest of the Chabad.
The focal point of the sanctuary is the holy ark or Aron Hakodesh, where Torah Scrolls are kept. Custom glass sliding "blue Agatha" doors are lit from within. The resulting effect, created by varying layers and levels of LED lighting, is no less than breathtaking.
A custom-designed, abstract-patterned broadloom carpet flows throughout the main sanctuary and the bimah. Modern decorative light fixtures with a warm, champagne silver finish are accented with crystals. Custom built-in racks designed to store tallits (fringed shawls) have pocket doors for easy access.
The grey-washed wood used throughout the sanctuary, main hallways and the Mikvah, was created specifically for this project. Silver-leafed, stainless-steal, and mother-of-pearl accents add to the overall glamour. Says Ms. Lichi, "We wanted to incorporate all of the elements—water, earth, air and fire—to achieve Feng Shui balance that would be universally appealing to congregants. Mikvah, for example, is about cleansing and we incorporated many blue accents throughout to represent water." There are also gilded-glass details throughout the sanctuary, including distinctive ceilings with professional lighting effects that can be controlled to effect various moods.
"Our goal was to achieve fresh, glamorous, beautiful yet timeless interior design that incorporates today's innovative technology, all the while making a universal and timeless spiritual statement. By blending materials, colors, textures, shapes and sizes, lightness and brightness, sparkle and shine, richness and simplicity, we believe that we have created a perfect reflection of the congregation's sacred faith."
The Grand Opening and Ribbon Cutting Ceremony takes place September 19, 2019, at 5:30 pm.
Perla Lichi is a Florida licensed professional interior designer, FL ID#1727. Perla Lichi Design is a full-service interior design company. For more information visit http://www.perlalichi.com or call Perla Lichi Design in Pompano Beach, Florida, at 954-726-0899. For information about the Chabad of Parkland, visit the website or contact Rabbi Yosef Biston or Rabbi Shuey Biston.