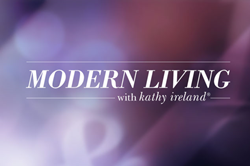 "Our vision is dream homes for all. That means that we need to have all styles and all price points at an excellent quality so that people can create their dream home." - Krista Matthews, Chief Customer Officer of Overstock.com
LOS ANGELES (PRWEB) November 06, 2019
Modern Living with kathy ireland® is pleased to announce an exclusive interview with Overstock.com Chief Customer Officer Krista Mathews to discuss their unique home goods -- including furniture, décor and rugs -- sold exclusively online.
Overstock is a tech-driven online retailer located near Salt Lake City in the shadow of the Wasatch Mountains. Since their beginnings in 1999, Overstock.com has pioneered online retailing and grown into an industry leader as a result of their commitment to providing an exceptional customer experience. The company provides high-quality merchandise at a great value with exceptional customer service, while connecting people with products and services in new and unexpected ways. Their goal is to create dream homes for everyone.
Mathews says that Overstock strives to give customers quality home goods at excellent prices. She explains, "We offer anything that a shopper is looking for, but we especially want to sell home goods -- so furniture, decor, and rugs. Our vision is dream homes for all. That means that we need to have all styles and all price points at an excellent quality so that people can create their dream home. Everything from their first apartment to their nursery to their dream retirement home and anything in between -- we want you to find the goods on Overstock."
For more information, visit Overstock.com and tune in to WE tv as sponsored content on Thursday, November 7, 2019 at 7:30am EST.
About Modern Living with kathy ireland®
Modern Living with kathy ireland® is an independently produced television series airing domestically on WE tv as sponsored content and on Bloomberg Internationally. Hosted by lifestyle influencer and business mogul Kathy Ireland, the series features the latest in lifestyle and B2C trends, breakthroughs, and solutions, while highlighting companies from around the globe in a unique and credible format. For more about Modern Living with kathy ireland®, visit modernlivingtv.com and check out the series on social media!