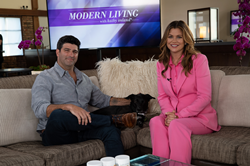 "Our mission is pretty simple. What we really strive to do is create happier, healthier pets." - Brian Murphy, Co-Founder of PetJoy
LOS ANGELES (PRWEB) November 19, 2019
Modern Living with kathy ireland® is pleased to announce an exclusive interview with with PetJoy Co-Founder Brian Murphy to discuss their nutritious, delicious, healthy supplements for pets.
PetJoy is a company that creates supplements to ensure happy, healthy pets. The company strives to bring the highest quality products to pet lovers. PetJoy's three main supplements are for heart health, joint health and complete daily health. All come in soft chew form. These "human grade" supplements are specifically crafted to provide the highest quality nutritional support to make happy, healthy pets. Plus, all PetJoy supplements are veterinarian-approved. In addition to their line of supplements, PetJoy supports and donates to no-kill animal shelters and animal adoption agencies across the country. PetJoy is headquartered in Denver, Colorado.
Brian Murphy, Co-Founder of PetJoy says that PetJoy puts everything they have into creating products to help pets live long, healthy, happy lives. He explains, "Our mission is pretty simple. What we really strive to do is create happier, healthier pets. In order to make sure that our supplements taste great for the dogs, we use our patented flavoring system that we back by our one-hundred percent guarantee. When we formulated our products, we wanted to make sure that they were well received by veterinarians, so we took them into our own veterinarians and they loved what we were able to put into the supplements. In the future, we want to come up with more formulas that will help dogs be healthy and continue to give back and hopefully take a big bite out of animal cruelty."
For more information about PetJoy's nutritious supplements, visit PetJoy.com and tune in to WE tv as sponsored content on Thursday, November 21, 2019 at 7:30am EST.
About Modern Living with kathy ireland®
Modern Living with kathy ireland® is an independently produced television series airing domestically on WE tv as sponsored content and on Bloomberg Internationally. Hosted by lifestyle influencer and business mogul Kathy Ireland, the series features the latest in lifestyle and B2C trends, breakthroughs, and solutions, while highlighting companies from around the globe in a unique and credible format. For more about Modern Living with kathy ireland®, visit modernlivingtv.com and check out the series on social media!