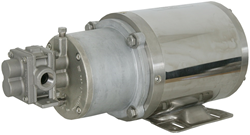 Newly-enhanced versions of ISOChem with sanitary connections have carved a new niche in the rapidly growing CBD extraction market.
Rochester, NY (PRWEB) December 10, 2019
Pulsafeeder, a global leader in fluid handling technology since 1942, today announced that Modern Pumping Today Magazine has named the ISOChem rotary gear pump to its 2019 Top Products list. Pulsafeeder is showcasing the award-winning ISOChem pump this week at the MJBizCon show in Las Vegas, in booth #C2762
ISOChem pumps are compact, magnetically-driven, sealless gear pumps designed to safely handle hazardous and expensive chemicals. Their sealless design ensures no leaks, limited downtime and minimal maintenance. For years, ISOChem pumps have been used in a variety of industrial transfer and metering applications. This past year, newly-enhanced versions of ISOChem with sanitary connections have carved a new niche in the rapidly growing CBD extraction market, where they are used for transfer applications and also to meter specific quantities of ethanol in the extraction process.
The passage of the 2018 Farm Bill has made cultivating and processing low-THC industrial hemp legal at the federal level. CBD (or cannabidiol) extracted from industrial hemp is not psychoactive and it does not make users feel "high" because it contains low doses of THC. CBD interacts with the body's natural endocannabinoid receptors to provide what many regard as health benefits without the drawbacks of marijuana. CBD products derived from hemp include oils, topical creams, lotions, breath mints and even coffee and bottle water. Available online or in retail stores, CBD products are marketed and consumed like natural alternatives to ibuprofen or commercially available nutritional supplements.
CDB is produced in a similar manner to essential oils (like lavender or eucalyptus) – which is by pressing chemical solvents through plants in order to create the chemical reactions needed to unlock the desired molecules. Ethanol is a popular chemical used for this process. The solvent is typically pressed through Hemp plants at less than 100 psig and at temperatures ranging between -40F to 250F, which is a zone where ISOChem excels. ISOChem pumps have become a preferred pump for CBD extractors because the pump's compact footprint makes it easy to incorporate into any skid, and Pulsafeeder distributors prefer ISOChem because of its price point, and the fact that it can be provisioned within hours, and shipped to the customer in a matter of days.
"We discussed the rapidly growing CBD extraction market with Pulsafeeder at a recent trade show, and we're pleased to add the newly enhanced ISOChem pump to our Top Products list because we think it's a good example of an evolving market need shifting into the wheelhouse of a trusted and proven pump," said Modern Pumping Today's Editor J. Campbell.
"ISOChem combines all of the characteristics in one pump that CBD extractors need," said Pulsafeeder's Rotary Product Manager Jeffrey Martin. "When it comes to pumps for CBD extraction, no single feature dominates, but it's the combination of flow and pressure, sealless/leak-free reliability, our new sanitary connections, price, and quick availability that make ISOChem a preferred pump for the rapidly-growing CBD Extraction market."
For more information on Modern Pumping Today's Top Products feature, click here. Anyone attending the MJBizCon event in Las Vegas this week is invited to visit Pulsafeeder in booth #C2762.
For additional details on ISOChem, please visit: http://pulsa.com/wp-content/uploads/2019/03/Tech_Sheet_Isochem_GMC4-1.pdf
Please note: Pulsafeeder only works with distribution partners and extractors in accordance with local laws and regulations.
About Pulsafeeder:
In the early 1940's Pulsafeeder pioneered the hydraulically actuated diaphragm metering pump principle, and the company has been a global leader in fluid handling technology ever since. With experience in multiple industries, including: water & wastewater treatment; chemical & petrochemical processing; oil and gas; refineries, power generation as well as upstream applications, Pulsafeeder's reciprocating and rotary gear pumping technologies meet and exceed the industry requirements for safety, reliability, and precise control. For more information, visit: http://www.pulsa.com.