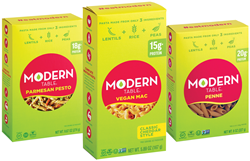 In independent taste testing our product comes out on top in almost every category in regards to taste, texture and nutrition time and time again. We offer food that fits modern diets - and we want to make sure our packaging reflects that
WALNUT CREEK, Calif. (PRWEB) November 07, 2019
Modern Table, maker of delicious plant-based pasta alternatives, has revealed an entirely new look featuring a contemporary logo and clean, but striking new color palette. The new look embodies the brand's commitment to providing its customers with the highest quality lentil- and veggie-based pastas. The packaging refresh, designed to stand out in the pasta and mac & cheese aisles, will begin rolling out to retailers nationwide this Fall.
"In a highly competitive, fast growing product set like alternative pastas, it's important to differentiate yourself as a brand and make sure you're standing out from the crowd," says David De Souza, Marketing Lead at Modern Table. "In independent taste testing our product comes out on top in almost every category in regards to taste, texture and nutrition time and time again. We offer food that fits modern diets - and we want to make sure our packaging reflects that"
Prominently positioned on its packaging, the brand's signature red badge logo received a decidedly modern redesign that incorporates a simple visual cue towards contemporary diets such as vegan, plant based foods. The new color palette is visually striking and designed to stand out on retail shelves.
"We're extremely excited to get our new branding out there," continued De Souza. "A lot of work has gone into this redesign and we're thrilled with the result. We're looking forward to seeing how our customers, old and new, react to our new look and feel."
Also highlighted on the new packaging are the three simple ingredients that make up Modern Table's pasta - lentils, rice and peas - which together make a complete protein delivering all nine essential amino acids with a low glycemic index for long-lasting energy, good digestion and improved muscle health.
Modern Table's pastas are clean, nutritious alternatives to traditional wheat pastas and are GMO-free, vegan/vegetarian, Kosher (pastas only) and gluten-free.
Look for Modern Table's new packaging on store shelves this Fall. For more information please visit http://www.moderntable.com and follow on Facebook, Instagram, Pinterest and Twitter.
ABOUT MODERN TABLE
At Modern Table, we believe that the foods we love to eat can also be the foods we want to eat. Modern eating is about finding a new way – a better way – to create new habits and sustain them. It's about defining what really matters to us – whether it be whole body health, clean eating or animal welfare – and make it a way of living. We are passionate about combining our gluten-free, three-ingredient protein pasta with clean label sauces to create meals that nourish and satisfy. All Modern Table products are made with whole ingredients, are GMO-free and soy-free with no artificial preservatives, and are available at http://www.moderntable.com and nationally at Whole Foods, Wegman's, Kroger Publix, Amazon and more.
Join us and #eatmodern.