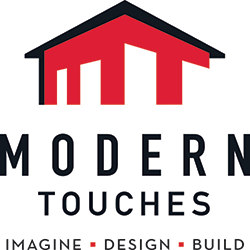 One goal is to help clarify and then transform the customer's vision into a remodel that stands out, at the same time reflecting the improved look, texture, function or feel that they're looking for
Urabandale, Iowa (PRWEB) March 03, 2016
Modern Touches, an award-winning provider of home remodeling and improvement services, has rebranded with a new logo to better signify the company's innovative approach to general contracting and design.
The rebranded logo, announced in advance of Modern Touches' exhibition, March 11-13, at the Home & Remodeling Show in Des Moines, reflects the foundation on which the company has developed a growing presence in Iowa, keen sense of the design-build environment, and full-service team.
With the recent additions of Josh Knittel, an architectural designer, and Bobbie Van Roekel, an interior designer and marketing consultant, Modern Touches has also expanded on its capability to help customers to visualize results during each layer of the design and construction process. From kitchens, baths, bedrooms and basements – to custom additions, whole-house renovations or transformational floor plans – Modern Touches starts and finishes every project with a focus on customer-driven communication that results in desired outcomes.
In addition to assisting with the choice, appearance and placement of products or materials, said Marie Herrick, cofounder of Modern Touches, the company's personable, detail-oriented staff collaborates closely with clients to capture their vision – and ensure continuity – when selecting paint colors, fixtures, cabinets, flooring and countertops, among other features or customized amenities arranged to bolster the style, comfort and efficiency of a home.
"Each element of our new logo was structured to present a fresh and creative look at Modern Touches' keen sense of layout and design, alongside a dynamic use of technology that promotes three-dimensional thinking," Herrick said. "A passion for design is not something that can be constructed. Our customers are highly visual. The emphasis at Modern Touches is on building trust and relationship while empowering homeowners to envision results prior to the commencement of work."
"One goal is to help clarify and then transform the customer's vision into a remodel that stands out, at the same time reflecting the improved look, texture, function or feel that they're looking for," Herrick said. "It's more than a remodel. We engage with homeowners – from the start and through project completion – to imagine, design and build-out spaces that bolster value, home use and appeal."
Modern Touches has published on its YouTube.com Channel the first two segments in a three-part video series featuring walk-throughs with 3D renderings, commentary on the interior design process, and before-and-after pictures highlighting the custom remodel of a south Des Moines home.
View episode 1: https://www.youtube.com/watch?v=LaqR7p27Fpw
View episode 2: https://www.youtube.com/watch?v=LtsTtBVVjB8
A third and final installment in the "Basement Bar" series is scheduled to go live and will be on display March 11-13, in Booths 2 and 3 at the Des Moines Home & Remodeling Show.
###
About Modern Touches
Modern Touches, recognized among the top remodeling professionals on Houzz with back-to-back receptions of "Best of Customer Service" awards, is a full-service general contracting company that specializes in kitchens, bathrooms, bedrooms, basements, additions, whole-house renovations and more. From start to finish, Modern Touches removes all guesswork from the design-build process while demonstrating the highest standards of service, craftsmanship, eco-friendliness and efficiency. Veteran owned and operated, the professional Urbandale, Iowa-based contractor has successfully delivered hundreds of remodeling projects around the state and throughout Greater Des Moines.