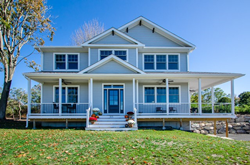 SWANSEA, Mass. (PRWEB) November 02, 2020
The Modular Home Builders Association (MHBA) awarded its distinguished Home of the Month recognition to Westchester Modular Homes Inc. and Southeastern Development Co. Both companies are members of MHBA.
The recognition was awarded for the Colonial model in Swansea, Massachusetts, that Westchester manufactured and Southeastern Development Co. finished on site. Westchester, based in New York, builds custom modular homes. Southeastern Development Co. serves the Southeastern Massachusetts area with custom home building services.
The collaboration between the two partners resulted in a beautiful single-family home. The house is two stories and includes three bedrooms and two-and-a-half bathrooms. A wrap-around porch enhances the home's exterior and a two-car garage adds additional function.
The custom home also features a gourmet kitchen and dark hardwood floors throughout. Photos of the home are available on the MHBA website's Home of the Month showcase.
MHBA's Home of the Month award is a monthly contest open to MHBA member companies. Winners receive recognition and promotion of their home on MHBA social media channels, email communications, and press releases. The winning home is also featured on the MHBA website homepage for the month.
For more information on joining MHBA, read up on our member benefits.
###
About MHBA: The Modular Home Builders Association is the only national organization dedicated exclusively to serving modular home builders and manufacturers. In an effort to improve construction productivity and efficiency, the MHBA promotes the advantages of modular construction to builders, government agencies and the general public. MHBA also advocates at the state and federal level to ensure a fair and competitive playing field for the industry.