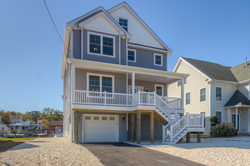 BRICK, N.J. (PRWEB) September 01, 2020
The Modular Home Builders Association (MHBA) recognized two of its members: Zarrilli Homes and Simplex Homes, as winners of the Home of the Month award for September 2020. Each month, MHBA members submit homes for consideration and MHBA picks a home that showcases excellence in modular home building.
The September Home of the Month is a Cabana model located in Brick, NJ. The home has 4 bedrooms and 3 bathrooms in addition to an expansive upper bonus room. The Cabana is located on premier waterfront property. The home's custom molding and open floorplan are other fantastic features.
Photos of the home and a brief description of the home's features can be found in the Home of the Month showcase on the MHBA website: http://modularhousing.com/HtmlPage.aspx?name=HOM_September2020.
The home builder, Zarrilli Homes is located in New Jersey, while the home's manufacturer, Simplex Homes, is headquartered in Scranton, Pennsylvania. Simplex manufactures homes for modular home builders throughout New England and the Mid-Atlantic. MHBA serves a number of member builders and manufacturers based in the Northeast and the Mid-Atlantic United States.
MHBA membership consists of modular manufacturers and the builders who build and install modules on-site. Additional members include associate suppliers of materials and services and other key stakeholders in single-family residential modular construction projects.
About MHBA: The Modular Home Builders Association is the only national organization dedicated exclusively to serving modular home builders and manufacturers. In an effort to improve construction productivity and efficiency, the MHBA promotes the advantages of modular construction to builders, government agencies, and the general public. MHBA also advocates at the state and federal level to ensure a fair and competitive playing field for the industry.