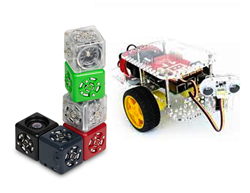 This acquisition allows us to immediately scale up and impact a greater number of kids and a more diverse set of learners. I'm incredibly excited for what's next.
BOULDER, Colo. and ARLINGTON, Va. (PRWEB) September 30, 2019
Modular Robotics, makers of Cubelets robot blocks, and Dexter Industries, creators of GoPiGo and GiggleBot, announced today that the two companies have united with plans to continue creating robotic teaching tools that inspire students to explore STEM, computational thinking, and other big ideas.
Since their founding, Modular Robotics and Dexter Industries have grown an avid following in the education community. Collectively, Cubelets, GoPiGo, and GiggleBot are used in more than 15,000 educational environments around the world. From traveling museum exhibitions to educators in classrooms ranging from pre-K to university, these robots help students discover new ways to learn and grow through robotics.
With Dexter Industries joining Modular Robotics, the company plans to use both product lines to help students become better problem solvers. Cubelets robot blocks provide a screen-free introduction to computational thinking, the problem-solving methodology used by computer scientists. "I feel strongly that the push to teach coding in elementary schools is misguided," said Eric Schweikardt, Modular Robotics' founder and CEO. "We should start with teaching computational thinking, away from a computer screen, and only get kids coding when it becomes the next logical step for each individual learner. It's important to build a strong foundation of logic, computational thinking, and creativity, before moving to programming."
Robots like GiggleBot, which enhances the micro:bit, or GoPiGo, which is built around the Raspberry Pi, are the next step in applying these lessons. They provide an easy to use platform for making code come to life. "Our robots help make coding accessible for learners of all backgrounds," said John Cole, Modular Robotics' new Chief Product Officer, and founder of Dexter Industries. "We help students of all ages approach computational thinking from where they are. By incorporating math, storytelling, art, and science, our robots bring coding from the flat-screen out into the real world."
Modular Robotics also announced that starting today, all online lesson plans and content for both product lines are free to any educator. This includes hundreds of lessons and units written for grades pre-K through high school. The lesson plans align to ISTE, NGSS, Common Core, and K-12 Computer Science standards. Providing free lesson plans supports Modular Robotics' goal of inspiring students to become better thinkers by using problem-solving techniques, like computational thinking, to master and manipulate complex systems.
Modular Robotics has focused on this mission since its founding in 2008 as a spinoff from Carnegie Mellon University. The new team and new products have Schweikardt thinking about the future: "As we get closer to shipping the millionth Cubelet, it feels like we've built a strong foundation helping kids become better thinkers. This acquisition allows us to immediately scale up and impact a greater number of kids and a more diverse set of learners. I'm incredibly excited for what's next."