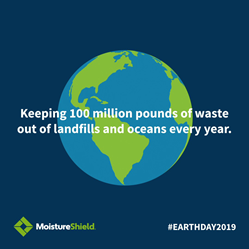 "We hope to make it easier for consumers to have a positive impact on the environment by offering products they'd be excited to use in their outdoor spaces" -- Joey Peters, Senior Brand Manager, MoistureShield
ATLANTA (PRWEB) April 22, 2019
Earth Day will be celebrated worldwide on April 22nd, with a special focus on the Earth Day Network's theme, "Protect Our Species." As a leader in composite decking, MoistureShield recognizes that plastics are becoming a huge threat to marine life such as birds, fish, sea turtles and seals. According to the nonprofit Plastic Oceans, the world produces almost 300 million tons of plastic each year and 8 million tons end up in the oceans--with mountains of plastic forming actual "islands." Trees that protect natural habitats on land are also being eradicated at an alarming rate.
MoistureShield's decking products are manufactured with an approximate 50/50 blend of recycled plastic and reclaimed wood fibers, diverting more than 100 million pounds of waste from landfills every year (equal to a staggering 7.5 football fields stacked 10 feet high).
The Earth Day Network notes, "Forests play a vital role in storing and releasing carbon from the atmosphere and they help to regulate and maintain Earth's carbon balance and create a safe habitat for animals."
MoistureShield strives to mitigate the impact on the world's forests by offering a durable, attractive alternative to wood for decking surfaces with realistic wood grain looks. No trees are sacrificed in the process – only wood by-products otherwise destined for disposal.
"As a CRH company, MoistureShield embodies the same global sustainability practices found in our sister companies. We are extremely conscious of the need to preserve resources for the future while diverting common waste items from landfills. We take steps throughout the entire manufacturing process to conserve both energy and materials," explains Joey Peters, Senior Brand Manager.
Their state-of-the-art 70,000 square-foot plastic recycling facility washes, cleans and separates polyethylene food packaging and wrapping films used for the raw materials in their decking products. The building itself is designed with LEED certifications, with no storm water discharged from the site and no potable water used in the manufacturing process and low-emissions. In greenhouse gas scientific terms, MoistureShield annually saves 119,497 MTCO2-E/T--the equivalent of taking approximately 25,650 passenger vehicles off the roads in the U.S. The energy efficient design even includes a habitat for protected species – preserving nearby landscapes for a variety of local wildlife
"We hope to make it easier for consumers to have a positive impact on the environment by offering products they'd be excited to use in their outdoor spaces, made by a company that takes steps to preserve all of the elements of the great outdoors without sacrificing performance," said Peters.
For more information on MoistureShield products, visit http://www.moistureshield.com. Learn more about the Earth Day Network's campaign to "Protect Our Species" at https://www.earthday.org/campaigns/endangered-species/earthday2019.
About Oldcastle APG:
Oldcastle APG, a CRH company, proudly manufactures composite deck boards and related products serving a range of retail and distribution customers across North America and several international markets, including the MoistureShield brand within the composite decking category. The development of new technologies and patents has enabled Oldcastle to manufacture superior composite products from recycled wood fiber and recycled polyethylene plastic for the building and construction markets.