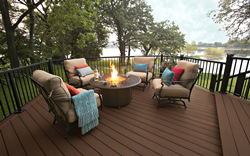 "The Elevate line of decking allows contractors and their customers to affordably upgrade to capped composite wood decking and enjoy all of its benefits" -- Richard Lankester, President of MoistureShield
ATLANTA (PRWEB) November 18, 2019
Contractors and homeowners who thought capped wood composite decking was far beyond their reach, can think again! MoistureShield has unveiled new Elevate™, featuring advanced protection and beauty within an entry-level budget. Elevate capped wood composite decking features a strong, protective cap which shields each board from impact, corrosion and harsh weather.
Elevate is available in two popular colors perfect for adding style and unmatched durability to any outdoor space. Lake Fog is a soft gray shade, while Canoe is a forest brown—both complementing any home's architectural style.
"The Elevate line of decking allows contractors and their customers to affordably upgrade to capped composite wood decking and enjoy all of its benefits," said Richard Lankester, President of MoistureShield, a division of Oldcastle APG. "Elevate delivers the beauty and durability of capped decking without breaking the bank."
In fact, it is estimated that Elevate decking can help homeowners upgrade to the benefits of composites –such as no splinters, increased aesthetics and low upkeep – for only 15% more than a wood deck.
Like all MoistureShield deck products, Elevate also features the Solid Core Difference™, a proprietary manufacturing process offering protection against moisture absorption, warping, rotting, and damage from insects right at the core of each board. This technology has resulted in zero structural field failures whether the boards are in the ground, on the ground or even underwater.
Elevate 5/4 deck boards are available in 12 and 16- ft. lengths in grooved profiles (for hidden fasteners) and 20-foot lengths with a solid edge for deck stairs and picture framing, as well as fascia boards in 12-foot lengths. Elevate decking is fully protected by a limited lifetime structural warrant for residential, as well as a residential 30-year limited lifetime fade and stain warranty. For commercial environments, it carries a 10-year limited structural warranty. Elevate will be available in select markets for the initial launch, with plans for a broader roll-out in 2020.
MoistureShield wood composite decking is manufactured from 95 percent recycled content diverting tens of millions of pounds of plastic and wood scrap from landfills annually. For more information, visit http://www.MoistureShield.com.
About Oldcastle APG
Oldcastle APG, North America's largest manufacturer of Outdoor Living Products, is part of CRH's Building Products division. CRH is a leading global diversified building materials group with operating locations in 32 countries worldwide. MoistureShield, a division of Oldcastle APG, proudly manufactures composite deck boards and related products serving a range of retail and distribution customers across North America and several international markets. The development of new technologies and patents has enabled MoistureShield to manufacture superior composite products from recycled wood fiber and recycled polyethylene plastic. Learn more at http://www.MoistureShield.com.