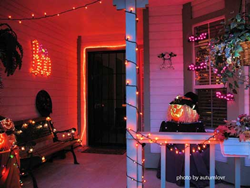 ATLANTA (PRWEB) October 24, 2018
The same deck that offers valuable entertaining space and outdoor ambiance in the warmer months is the perfect spot to host a Halloween party. Plan to take advantage of the natural backdrop of a fall evening to make a fun and memorable event. Experts from MoistureShield composite decking from Oldcastle APG offer some advice for a safe, fun and easy Halloween party that you can pull off with the help of only a skeleton crew.

Replace summer plantings with simple fall décor such as corn stalks, hay bales, and burlap table clothes, or for a less rustic look, fall flowers, colored foliage, and burgundy linens. Be sure to include the season's stars, pumpkins, and gourds. Since they'll stay fresh longer outside than they do indoors, you don't have to wait until the day of the party to start decorating so this is an easy do-ahead.
Add light sources that don't pose a fire hazard. Particularly if guests will be in costume, be wary of open flames. Instead, look to string lights, lanterns or luminaries with battery-operated candles, and glow sticks to add both ambient and guiding light. Lighting built into stair risers adds an extra level of safety for nighttime parties.
Fend off the chill, if necessary, with an outdoor heater (some party rental companies have these if you don't already own one). Place warm throws around on benches and chairs for easy access.
Set the mood with Halloween-themed music. Playlists are available on most streaming music services. You can also find some non-music background like "Spooky Forest."
Depending on your budget, you can do a pot-luck and ask guests to bring their favorite fall (chili, soups) or other themed food (spooky, slimy, orange, etc.), or revive the tried-and-true outdoor heroes like deli platters or grilled food.
Be sure to include a selection of hot drinks like cider, coffee and/or hot chocolate in thermal carafes, as well as cold drinks. If you want to have cocktails, consider finding a festive Halloween cocktail recipe online and leaving it by the bar with ingredients for guests to mix it up themselves to free you up. Or, make a punch and float some icy hands in it made by freezing water in disposable gloves.
Don't forget the candy. Even if your guests are past trick-or-treating age, they're likely to appreciate some sweets that remind them of their favorite Halloweens past.
Since fall is the perfect time to clean your deck, plan to do your cleaning and winterizing early in November, after the party. Then, start planning for ways to extend the outdoor fun through winter!
For more information on MoistureShield and to find dealers, visit http://www.moistureshield.com
About Composite Decking at Oldcastle APG:
Oldcastle APG, a CRH company, proudly manufactures composite deck boards and related products serving a range of retail and distribution customers across North America and several international markets. MoistureShield is a brand within the composite decking category. The development of new technologies and patents has enabled Oldcastle to manufacture superior composite products from recycled wood fiber and recycled polyethylene plastic for the building and construction markets.