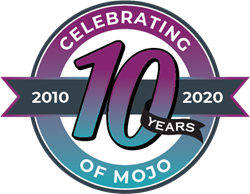 We're only getting started. The best is yet to come.
SAN DIEGO (PRWEB) October 15, 2020
Mojo Marketing, the first and only B2B IT and telecom marketing agency, announced today a major milestone: 10 successful years in business.
In that time, Mojo has helped more than 200 telecom carriers, master agents, managed services providers (MSPs), value-added resellers (VARs), IT services providers, and telecom agents create and execute effective marketing strategies. Mojo's roster of past and present clients includes industry giants such as Comcast Business, Spectrum Business, Time Warner Cable Business Class, Intelisys, Cloud Communications Alliance, and BullsEye Telecom.
"Reflecting on the last decade, I am overwhelmed with humility and gratitude to everyone who has been part of this journey," said Angela Leavitt, founder and CEO of Mojo Marketing. "What started as a freelancing stint has turned into something so much bigger than I ever imagined."
"That said, we're only getting started. The best is yet to come," continued Leavitt.
Other recent Mojo achievements include being named to San Diego's Top 100 Fastest-Growing Privately Held Companies in 2018 and passing the $1M revenue mark in 2019 – a milestone only 2% of woman-owned businesses ever reach.
"Mojo has quickly established itself as the leading marketing partner for the cloud communications industry as the transformation to the cloud has grown exponentially," said Clark Peterson, chairman of the Cloud Communications Alliance and past president of Vonage Business. "Mojo and the dynamic team Angela has assembled have been at the forefront – helping companies forge this pioneering new frontier."
According to the U.S. Bureau of Labor Statistics, only roughly 30% of all small businesses survive their first 10 years. Mojo attributes its success to staying focused on its niche, hiring top talent, and continually evolving with current marketing trends.
"To date, we have bootstrapped our way to success, which has served us well while building a strong foundation," said Leavitt. "Looking ahead, we will leverage outside funding to hire faster and offer our services at scale. It's about to get really exciting."
"Our vision is to become the most powerful full-service growth agency for B2B technology industries on the planet," said Daniel Rooney, vice president of operations for Mojo. "Combining the authority and experience Mojo has built over the last decade with our current financial strength, Mojo is poised for massive growth."
"With more than five years' experience at Mojo, I have personally witnessed our transformation from a small startup to a world-class agency," said Justine Dolorfino-Thieman, Mojo's director of operations. "I look forward to what the future holds as we continue to leverage our talented team to support the innovation of the B2B technology industry."
About Mojo Marketing
Mojo Marketing works with B2B telecom, IT, and cloud companies that are serious about growth and yet are frustrated with their sales and marketing results. Mojo helps its clients create and implement data-driven growth strategies that deliver qualified sales opportunities and drive ROI. Mojo knows exactly what works for B2B telecom, IT, and cloud because of its industry focus, and the company is passionate about helping its clients reach their full growth potential. Learn more at http://www.gimmemojo.com.