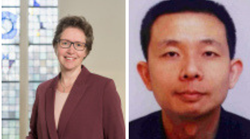 YORBA LINDA, Calif. (PRWEB) October 02, 2018
Through this webinar, sponsored by Molecular Devices, participants will learn tips and best practices for 1536-well FLIPR screening. They will also learn the role of calcium kinetics in cardiac safety testing. The speakers for this event will be Dr. Helma Van Den Hurk, the chief operations officer at PPSC Biography; and Tsang Wai Lam, an assay development scientist at PPSC.
They will discuss how high-throughput screening for the European Lead Factory (ELF) has performed at Pivot Park Screening Centre (PPSC) and review 72 HTS campaigns performed in the past five years on a compound library that has grown from 320,000 to 450,000 compounds.
The screens cover a wide range of target classes including more demanding cellular targets like ion channels and protein-protein interactions. As an example of one of the ELF screening campaigns we will present the results of a high throughput screening to identify selective agonists for an ion channel using Molecular Devices Fluorimetric Imaging Plate Reader (FLIPR).
In this project, the assay was based on stable cell lines expressing the ion channel. The assay was successfully miniaturized to 1536-well format using a Molecular Devices standard membrane potential dye. The screening cascade will be presented.
Other highly important aspect for effective drug development is the assessment of cardiac safety and efficacy of drug candidates. Hence, there is a pressing need for in vitro screening methods to detect cardioactive effects of compounds early in the drug discovery process.
LabRoots will host the event October 23, 2018; the webinar will begin at 7 a.m. PDT, 10 a.m. EDT. To learn more about this event and the speakers, discover the continuing education credits that will be offered, or to register for free, click here.
About Molecular Devices, LLC
Molecular Devices is one of the world's leading providers of high-performance bioanalytical measurement systems, software and consumables for life science research, pharmaceutical and biotherapeutic development. Included within a broad product portfolio are platforms for high-throughput screening, genomic and cellular analysis, colony selection and microplate detection. These leading-edge products enable scientists to improve productivity and effectiveness, ultimately accelerating research and the discovery of new therapeutics.
Molecular Devices is committed to the continual development of innovative solutions for life science applications. The company is headquartered in Silicon Valley, California with offices around the globe.
For more information, visit: http://www.moleculardevices.com/flipr
About LabRoots
LabRoots is the leading scientific social networking website, which provides daily scientific trending news, as well as produces educational virtual events and webinars, on the latest discoveries and advancements in science. Contributing to the advancement of science through content sharing capabilities, LabRoots is a powerful advocate in amplifying global networks and communities. Founded in 2008, LabRoots emphasizes digital innovation in scientific collaboration and learning, and is a primary source for current scientific news, webinars, virtual conferences, and more. LabRoots has grown into the world's largest series of virtual events within the Life Sciences and Clinical Diagnostics community.