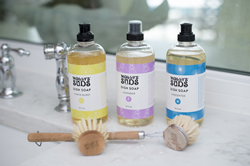 Expanding our line of truly safe laundry products to Household cleaners was the natural progression for Molly's Suds.
ST. PETERSBURG, Fla. (PRWEB) October 10, 2019
Molly's Suds expands their natural products with a line of kitchen and household cleaners that use effective and safe earth and plant-derived ingredients that cut down the exposure to endocrine-disrupting chemicals and carcinogens. Molly's Suds has been known for its expansive line of natural laundry detergents since 2008 and is excited about the growth in this new category.
Four new cleaning products launched this year by Molly's Suds and each of these products use pure and safe ingredients that are effective, smell divine, and align with their promise to be Always Safe for people & the planet. The All-Purpose Natural Cleaner easily cuts through gunk, grease, and grime, leaving surfaces sparkling clean. The Dish Soap has all the cleansing and grease-cutting power of conventional dish soaps, but with none of the health hazards. For clean sinks, the Molly's Suds Sink SCRUB™ gently polishes and washes away tough food debris while removing unpleasant odors. Finally, their unique Linen Spray is a true deodorizer that captures odor molecules and pulls them from the air, leaving a safe and beautiful aroma. Many of the Molly's Suds household line has multiple uses around the home with alternative uses listed on the packaging.
One of their basic core values is to be mindful of people and the environment.
"Expanding our line of truly safe laundry products to Household cleaners was the natural progression for Molly's Suds. Similar to my dissatisfaction with the available options for safe laundry products, I found a need in the household cleaning space for effective products with superior ingredient integrity." Monica Leonard, Founder of Molly's Suds
In addition to the line of household cleaners, Molly's Suds also launches their Organic Cotton Flour Sack Towels, Dish Brush and Dish & Vegetable Scrubber to support the growing zero-waste movement. These products are all sustainably sourced, reusable, durable, long-lasting, and can save families hundreds of dollars a year when switching from disposable alternatives.
Leonard says, "The zero-waste and plastic-free mission is one that is important to our customers and to the future of our business. We're also working with retailers to offer our products in bulk refills around the country."
All of Molly's Suds cleaners are Made in the USA, packaged using recyclable or reusable materials, Vegan, and certified Cruelty-Free by Leaping Bunny.
About Molly's Suds: Molly's Suds was founded in 2008 by a pediatric nurse and mom, inspired by the loss of her daughter Molly. Upon investigation into potential causes for this tragedy, she learned that of the 80,000 chemicals approved for use by the Toxic Substances Control Act , only 200 are tested for human safety. So, she went back to the basics by creating safe and effective cleaning products with just a handful of earth and plant-derived ingredients. Sharing her knowledge and educating consumers about the dangers of conventional household cleaners, and the ease of switching to natural, safe and effective alternatives propelled her forward.