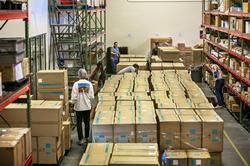 For Operation Smile, Mölnlycke's donation will allow more medical volunteers to safely provide surgery, comprehensive care and training for local health workers.
VIRGINIA BEACH, Va. (PRWEB) November 15, 2021
In collaboration with fellow Partnership for Quality Medical Donations (PQMD) member organizations, global surgical nonprofit Operation Smile is distributing 1.9 million N95 particulate respirators to health workers in low- and middle-income countries worldwide from a donation received from Mölnlycke Health Care.
Mölnlycke is a subsidiary of the Swedish company Mölnlycke Heath Care AB, a global leading provider of single-use surgical and wound care products. Mölnlycke seeks to advance performance in health care around the world, providing professionals with the tools they need to achieve the best clinical, patient and economic outcomes.
This donation follows a history of corporate support between Mölnlycke and Operation Smile that began in 2004. Over the years, Mölnlycke has donated nearly 1.4 million pairs of Biogel® surgical gloves to Operation Smile, helping the nonprofit deliver the safest and highest quality surgical care to patients in resource-limited environments. In addition to providing free reconstructive surgery to people born with cleft conditions, Operation Smile donates medical equipment and trains local medical professionals in best wound care and other surgical practices.
"It's important to really understand that these masks are needed now," said Patricia Bacuros, Operation Smile's vice president of gifts in kind, about the urgency created by the ongoing COVID-19 pandemic. "If we can really work together to deploy the 1.9 million masks within the next six months, we are going to have a broader reach and a bigger impact."
The masks are to be distributed across Africa, Latin America and the Middle East through a partnership between Operation Smile and fellow PQMD-member nonprofit organizations.
PQMD is a highly respected global alliance of more than 40 corporations and nonprofit organizations leading the development and championing of high standards in medicine and medical equipment and services donations. Operation Smile will receive slightly over 1 million N95 particulate respirators with the remainder being allocated between PQMD members Project C.U.R.E., MAP International, and CMMB.
"This donation will clearly help several of our member organization protect health care workers and patients in multiple countries," said Elizabeth Ashbourne, PQMD's executive director. "These are organizations that work worldwide and have very sophisticated operations in-country that are led by local individuals and local doctors."
For Operation Smile, Mölnlycke's donation will allow more medical volunteers to safely provide surgery, comprehensive care and training for local health workers. More information about Operation Smile's mission to provide free reconstructive cleft surgery and related care to areas of the world where it's needed most can be found at https://www.operationsmile.org/.
About Operation Smile
Operation Smile is a global surgical nonprofit that improves the health and dignity of patients living with cleft lip and cleft palate in low- and middle-income countries. Since 1982, Operation Smile has been committed to providing patients with health that lasts through life-saving cleft surgeries and comprehensive care, helping them to better breathe, eat, speak and live lives of greater quality and confidence. Its training and education programs elevate safe surgical standards and strengthen a global network to reach more people earlier in their lives. Learn more at https://www.operationsmile.org/ or by following @operationsmile on social media.
About Mölnlycke
Mölnlycke Health Care is a provider of high-quality healthcare solutions for customers, healthcare professionals and patients worldwide. We develop and bring to market innovative wound care and surgical solutions along the entire continuum of care – from prevention to post-acute settings. Our value-based solutions provide reduction of healthcare-acquired conditions supported by scientific, clinical, and health economic evidence. Since our beginning in 1846, we've grown into a global company and customers use our solutions in almost 100 countries. Several Mölnlycke facilities are located in the US, including manufacturing, distribution and office locations, and our headquarters are in Gothenburg, Sweden. To learn more about our story, brands and what we care about, visit http://www.molnlycke.us.
###