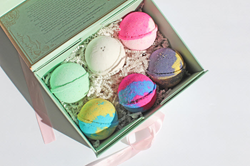 This donation furthers the mission of helping mothers that fall into the gap of the working poor.
BOSTON (PRWEB) November 29, 2018
MomBomb.org was approved as an official 501C3 Organization as of September 25, 2018 and just 2 months later, Joseph Kupstus, the owner of Emily's Interiors has given a donation of 10 thousand dollars in order to help mothers in need this holiday season. The money will be used to find 20 mothers, nationwide, to ease their burden, especially during the holiday season. Joe says, "I've seen what MomBomb.org has done to help moms going through a rough time, and I saw what Heather, the founder went through when she got ill. Her determination to help others, especially when she could barely help herself, was nothing short of inspirational. I named Emily's Interiors after my daughter, Emily, and I want her to grow up knowing the value of helping others. MomBomb.org is a great non profit to be aligned with, and I'm excited to hear the stories of the mothers we are able to help this holiday season."
MomBomb.org provides mothers in need of assistance with up to a $500 value of one of the following services: Childcare expenses, Cleaning costs, Laundry assistance, and Grocery expenses. Prior to being accepted as a 501C3 all of the funds raised came from $5 of each purchase of Mom Bomb bath bombs, which allowed us to help 5 moms thus far. With the most recent donation from Emily's Interiors, we will now have the ability to assist 20 new moms in need.
Heather, the founder of this non-profit organization, states, "This donation furthers the mission of helping mothers that fall into the gap of the working poor. We want to be the bridge that helps during trying times and this official recognition as a 501C3 makes it easier for us to help more people, as now we can accept tax deductible donations."
Moms in need of assistance can apply through the MomBomb.org site to provide a brief description of their story. A new feature we have added is the option to "Recommend a Mom" as well, which allows friends to help moms they know are struggling, but will not ask for help. This donation from Emily's Interiors will allow 20 new moms to experience some relief during their trying times.
If you, or anyone you know could use the services offered by MomBomb.org, please apply online at MomBomb.org