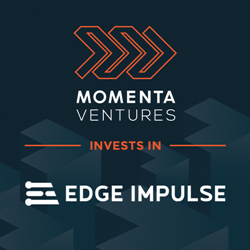 "Edge Impulse is accelerating and expanding the use of embedded intelligence, a catalyst for Digital Industry"
ZURICH and SAN FRANCISCO (PRWEB) July 21, 2020
Momenta Ventures is pleased to announce an investment in Edge Impulse, the leading platform for developing intelligent devices using embedded machine learning (TinyML).
Founded by Zach Shelby and Jan Jongboom, Edge Impulse has become the standard for edge-intelligence using machine learning with already 2,700 projects created on its easy-to-use and extensible platform since January. Edge Impulse is well-positioned to become a leader in edge intelligence, leveraging the convergence of low-cost, high-performance microprocessors and low-power, wide area networks such as LoRaWAN®, to create intelligent, extremely low-power and wireless devices.
Today, almost 99% of sensor data goes unused given the cost to transmit this back to applications. Edge Impulse solutions leverage all sensor data by reading and processing these at the edge, making intelligent decisions and transmitting back outcomes and actions. To read more see Zach's blog on Embedded ML for All Developers.
Zach Shelby writes "Machine learning for edge devices is already beginning to enable huge value for companies working with sensor data. Together with Momenta Ventures we aim to make this part of digital transformation across all industrial and commercial applications."
Soon after their platform launch in January, Edge Impulse announced partnerships with hardware providers Eta Compute, Arduino and ST Microelectronics, making it even easier to develop applications using the most popular hardware on the market.
Ken Forster, Executive Director of Momenta Ventures notes: "Edge Impulse is accelerating and expanding the use of embedded intelligence, a catalyst for Digital Industry, creating highly-distributed, edge solutions in our core industries of Energy, Manufacturing, Smart Spaces and Supply Chain".
This investment is the fifth out of Momenta Ventures' second fund, the Edge Ecosystem Fund, intended to accelerate innovative industry solutions powered by Low Power Wide Area Networks with a focus on open standards and ecosystems such as LoRaWAN®. Investors of this fund are strategic stakeholders in the LPWAN ecosystem.
About Edge Impulse
Edge Impulse is on a mission to enable developers to create the next generation of intelligent devices using embedded machine learning in industrial, enterprise, and human-centric applications. Machine learning at the very edge will enable valuable use of the 99% of sensor data that is discarded today due to cost, bandwidth or power constraints. The founders believe that machine learning can enable positive change in society and are dedicated to support applications for good. Sign up for free at edgeimpulse.com.
About Momenta Ventures
Momenta Ventures is the investment arm of Momenta Partners, the leading Digital Industry Growth Partner firm. Led by deep industry practitioners with strong entrepreneurial and corporate pedigree, Momenta Ventures has made over 40 investments, with notable exits to SAP, PTC, and Husqvarna Group. Momenta Ventures operates two Digital Industry funds, focused on Seed and Series A investments in Digital Energy, Manufacturing, Smart Spaces, and Supply Chain. For more information, please visit https://momenta.vc.