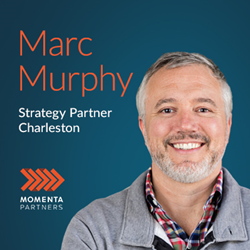 "I'm pleased to join Momenta, bringing my deep experience in, and passion for, industrial digital transformation."
ZURICH and SAN FRANCISCO (PRWEB) June 09, 2020
Momenta Partners, the leading global Advisory, Executive Search and Ventures firm focused on Digital Industry, is pleased to announce the appointment of Marc Murphy as Strategy Partner in Advisory, working with their Startup Advisory practice. Mr. Murphy is an experienced enterprise technology and startup leader including a two-time CEO. Marc has extensive experience leading high-growth, results-focused, startups including SPARC, LLC, an Inc 500 #1 ranked software services company resulting in the successful acquisition by Booz-Allen Hamilton in 2016.
Prior to SPARC, Marc was a partner at Deloitte Consulting. Most recently Marc was CEO of Atlatl Software Inc. where he spearheaded the software re-platforming and category creation for B2B visual and augmented-reality commerce tools targeting manufacturers. Marc is a veteran and former Army officer.
Momenta Partners was founded as Digital Industry Growth Partners; investing in, advising, and placing executive-level talent for leading and emerging companies focused on the digitization and transformation of industry. With the addition of Marc to its Startup Advisory team, Momenta will further enhance its range of startup-focused offerings while adding to our bench of deep industry and technology practitioners. The Momenta Startup Advisory offerings include CEO coaching; fractional CXO services; market and landscape research; positioning and go-to-market strategy formulation; business modeling; business and partner development; and readiness for raising capital.
According to Marc, "I'm pleased to join Momenta, bringing my deep experience in, and passion for, industrial digital transformation. I'm looking forward to supporting young companies' growth in the Industry 4.0 domain, working with an incredible team of practitioners at Momenta".
"We are pleased to have Marc join our Startup Advisory team," said Blaine Mathieu, Partner and Startup Advisory Team Lead. "His experience makes our team stronger and even more focused on the needs of startups targeting Digital Industry."
"Marc's successful startup CEO stints combine with his deep advisory background to help Momenta provide a true advisory powerhouse to the market," said Doug Harp, Managing Partner of Momenta Partners Advisory Practice. "Welcome, Marc!"
About Momenta Partners:
Momenta Partners are Digital Industry Growth Partners, with industry-leading Strategic Advisory, Executive Search, and Investment practices, accelerating the growth of companies in the industrial ecosystem globally since 2012. For more information, visit http://www.momenta.one, join the @MomentaPartners conversation or contact info@momenta.one.
Media Contacts:
Momenta Partners
Sandra Mueller
info@momenta.partners
+1 347 620-1836