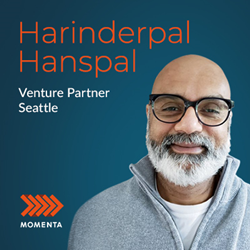 "Momenta has built a reputation as an exceptional partner to industrial startups. I am excited and honored to join the Momenta team and their portfolio of startups on this journey."
ZURICH, SEATTLE, and SAN FRANCISCO (PRWEB) May 11, 2021
Momenta, the leading Digital Industry Venture Capital firm, is pleased to announce the appointment of Harinderpal (Hans) Hanspal as Venture Partner. Mr. Hanspal will help source investments, as well as support value-creation efforts across Momenta's 50+ Digital Industry investments.
Mr. Hanspal is a technology industry veteran and entrepreneur driving digital business and product transformations in technology, industrial, telecom and media companies. His technology and business operations experience spans over two decades of turning scrappy startup and corporate innovation ideas into growth-oriented and profitable businesses based on transactional and recurring revenue models.
Mr. Hanspal co-founded Nurego to help Industrial IoT platforms transform their legacy quote-to-cash systems to support subscription, pay-per-use, and pay-per-outcome revenue models for their IoT and software-enabled products and services. He sold the company to GE and went on to lead GE Digital's Platform Monetization and Customer Development strategy. Earlier in his career, Hans held global sales, product management, corporate strategy, and customer success leadership positions at several enterprise software and hardware companies, including Pivotal Software, VMware, and EMC Corporation. In his spare time, Hans leads Seattle's 4200+ member IoT Hub Meetup group.
According to Mr. Hanspal, "Digital Industry startups require deep industry knowledge, patience, and capital as they look to transform century-old sectors and industries. Through its industry knowledge, ecosystem and investments, Momenta has built a reputation as an exceptional partner to industrial startups. I am excited and honored to join the Momenta team and their portfolio of startups on this journey."
Ken Forster, Executive Director of Momenta, added: "We are pleased to have Mr. Hanspal join our Ventures team. Since our founding almost a decade ago, we've built our team around deep industry operators, those who have lived at the intersection of digital technologies and deep industry. Mr. Hanspal brings both perspectives with a successful record of entrepreneurship in the Digital Industry."
About Momenta:
Momenta is the leading Digital Industry venture capital firm accelerating digital innovators across energy, manufacturing, smart spaces and supply chain. Led by deep industry operators across its venture capital, strategic advisory and executive search practices, Momenta has made over 50 investments, with notable exits to SAP, PTC and Husqvarna Group. For more information, visit http://www.momenta.one, join the @MomentaPartners conversation or contact info@momenta.one.