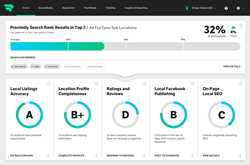 "As unbranded proximity search becomes the new battleground for digital marketers, we are committed to helping our clients achieve the best local search results."Nick Hedges, CEO of MomentFeed.
SANTA MONICA, Calif. (PRWEB) July 15, 2020
MomentFeed, the leading provider of Proximity Search Optimization, today introduced the release of a new Proximity Search Optimization Dashboard that allows multi-location brands to easily monitor and manage how well their local marketing efforts are performing. The fully integrated dashboard aggregates a brand's data across hundreds or even thousands of location review pages, social media platforms, and listings in one place.
"Before we consolidated our local marketing efforts on MomentFeed, we'd lose so much time trying to find insights and metrics from multiple sources," said Mary Newell Director Digital and Brand Marketing, Texas Roadhouse. "The new Proximity Search Optimization dashboard gives our team one place to log in and see in seconds how all of Texas Roadhouse's nearly 600 stores are performing — across reviews, social media, and listings. Now we can see how we're performing at-a-glance and dig in for more details."
As unbranded proximity search continues to skyrocket (i.e. "coffee near me" "grocery store near me") and competition for local search ranking heats up, it's imperative that multi-location digital marketers have an easy way to track how they are performing. The savviest multi-location brands are focused on growing their share of voice for the proximity discovery keywords that matter most in their category. And more specifically, they are focused on Google, which accounts for 93 percent of the mobile search market in the U.S.
"As unbranded proximity search becomes the new battleground for digital marketers, we are committed to helping our clients achieve the best local search results," said Nick Hedges, CEO of MomentFeed. "Our new Proximity Search Optimization Dashboard helps us guide our clients by delivering actionable insights in a way that hasn't been done before. Now marketers can both positively influence proximity discovery and demonstrate its powerful results."
PROXIMITY SEARCH RANK FACTORS
A business's location and its proximity to someone searching on Google is the most important local SEO ranking factor when it comes to local search results. These searches are often referred to as the "3-Pack" or "Map Pack" and are the first three results that pop up above the fold when a consumer performs a Google search on a mobile device. Locations that appear in the Google 3-Pack receive the majority of engagement and subsequent business. If a business location isn't among the 3-Pack listing, their chances of attracting customers can be 50 percent lower.
Locations can optimize for proximity search rank by monitoring and managing performance across the five controllable signals that impact proximity search rank:

Local Listing Accuracy — information accuracy and consistency across all networks not only improves proximity search rank, it also helps customers find businesses in the real world.
Local Profile Completeness — ensuring all applicable fields are filled out on each discovery network gives customers a more complete picture of a brand's business, while improving proximity search rank.
Ratings and Reviews — maintaining high customer rating scores and being responsive to reviews not only impacts proximity search rank, it also influences buyers' decisions on which business to choose.
Local Facebook Publishing Activity — frequency of posts on local social over the last 30 days and ideal keyword density can improve proximity search rank and help brands drive local community connections.
On-Page Local SEO — alignment with Google's assessment of quality on your website helps determine where those pages and the associated listings rank in local search.
PROXIMITY SEARCH OPTIMIZATION DASHBOARD BENEFITS
To compete locally, multi-location businesses must understand and prove how local marketing efforts impact reach, engagement, and new business. The release of the new Proximity Search Optimization Dashboard furthers this goal by delivering:
A unified view of how a multi-location business is performing across the five controllable signals that impact proximity search rank.
A snapshot of brand performance against industry averages with a simple letter grade — A to F — indicating performance against industry benchmarks on the five key signals that impact local search rank.
Actionable insights that reveal opportunities for quick local search wins such as - "15 locations have potential inaccuracies" or "23 locations have new customer reviews that have not been responded to." These insights help multi-location marketers focus on what matters most.
At-a-glance view of brand prominence in the Google 3-Pack, giving multi-location marketers a way to prove the value of local marketing in a way that every level of the organization can immediately understand.
Filterable views by keyword or location to gain a better understanding of areas of opportunity to improve local search rank.
"Brick-and-mortar businesses across all industries are at a critical inflection point, where the line between online and offline business is becoming more blurred," said Hedges. "Digital local marketing that influences discoverability, reputation, and loyalty has never been more important to unite mobile consumers with brands locally."
See the Proximity Search Optimization Dashboard in action and learn more about how MomentFeed helps multi-location businesses dominate in proximity search.
ABOUT MOMENTFEED
MomentFeed is the leading Proximity Search Optimization platform trusted by many of the largest multi-location brands in the restaurant, retail, automotive, hospitality, and financial services industries. Proximity Search Optimization is gaining significant interest from CMOs of multi-location, national brands and franchises as a way to show up locally, at the precise moment a customer has a need. MomentFeed makes it possible for national brands to execute hyperlocal marketing campaigns at scale – driving local awareness, in-store traffic, and more calls for appointments and orders.
Founded in 2010, MomentFeed is headquartered in Santa Monica, California. An Inc 5000 Fastest Growing Privately Held Company, it was also named a Comparably Best Company.
For more information visit http://www.momentfeed.com | Twitter | LinkedIn | Facebook