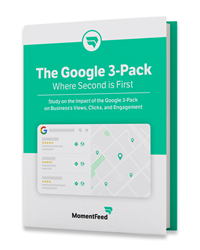 "Meeting customers where they are by optimizing for mobile-local search means more foot traffic and online conversions, and ultimately more sales for multi-location brands." - Nick Hedges, CEO of MomentFeed
SANTA MONICA, Calif. (PRWEB) February 18, 2021
NEWS SUMMARY:

The top spot in the Google 3-Pack isn't the most impactful in terms of performance for nearby businesses. Rather, the number two position often garners more clicks, suggesting that consumers use other factors when choosing between businesses in the Google 3-Pack.*
When choosing from the brands presented in the Google 3-Pack, 64% of consumers said proximity is a top factor, followed by familiarity with the brand (57%), rating (57%), and number of reviews (49%).**
Securing any spot in the Google 3-Pack improves performance, with the average Google My Business listing experiencing a 404% increase in total views and a 113% increase in clicks or actions when ranked in the Google 3-Pack.*
Ranking in the Google 3-Pack has the most dramatic impact on Click to Directions (88% increase), an indication of the 3-Pack's substantial value in reaching high-intent consumers looking to visit a business and make a purchase.*
MomentFeed, the leading provider of Proximity Search Optimization™, today published new research that quantifies the marketing value of a top-three spot in the Google 3-Pack for multi-location consumer brands in industries like, retail, restaurant, banking, mortgage lending, and insurance. The term "Google 3-Pack" or "local search pack" refers to the first organic results consumers see in response to a search query with local intent. When a search is deemed locally relevant, a grid called the Google 3-pack appears above the organic results and is visible on a smartphone without scrolling.
"Meeting customers where they are by optimizing for mobile-local search means more foot traffic and online conversions, and ultimately more sales for multi-location brands," said MomentFeed CEO Nick Hedges. "Our latest research not only underscores the importance of securing a spot in the Google 3-Pack, it also uncovers the surprising fact that the number two position is more impactful than the number one spot in increasing clicks and other actions that lead to online conversions."
To find out how valuable a top-three spot is to a brand's visibility and engagement, MomentFeed analyzed the performance of more than 350 brands and 25,000 business locations, and fielded a rigorous consumer survey regarding consumer preferences and choice when presented with a 3-Pack. The results shed light on important steps multi-location brands can take to better optimize their proximity to millions of potential customers. Among the key findings:
SHOWING UP IN A 3-PACK MEANS SIGNIFICANT GAINS
The average Google My Business listing saw a 404% increase in total views and a 113% increase in clicks or actions when ranked in the Google 3-Pack.* Each type of action saw a significant lift:

Click to Directions (88%)
Click to Call (76%)
Click to Location Website (76%)
The lift in Click to Directions suggests that the 3-Pack is particularly valuable for attracting high-intent consumers looking to visit a business and make a purchase. It also indicates that consumers are getting enough information from the business listings to make a decision without needing to call the business or visit its website.
ONCE IN THE 3-PACK, SECOND IS FIRST
Local results did not follow the pattern typically seen with traditional organic search results, where the number one position drives the lionshare of the engagement and each subsequent link receives fewer and fewer clicks. Instead, all three positions in the 3-Pack tended to see similar gains, with the second position even resulting in higher gains than the first in many industries.
3-PACK RANKING DRIVES INCREASED VIEWS FOR ALL INDUSTRIES
The biggest increases in listing views as a result of appearing in the Google 3-Pack can be found in the grocery (547%) and restaurant (503%) industries, while financial institutions (270%), doctors and healthcare facilities (183%) experience smaller but still impressive gains.
Higher consideration purchases — finding a new doctor or a lender for a new home loan — require more research than other categories before selecting a company with which to do business. Accordingly, while visibility in the 3-Pack is still important for higher consideration purchases, the user will likely conduct multiple searches over an extended research phase and scroll beyond the 3-pack when evaluating their options.
CONSUMERS USE FACTORS OTHER THAN RANK TO MAKE SELECTIONS
While rank certainly impacts visibility, once a consumer is presented with a 3-Pack, factors other than rank come into play. When asked what factors were most important when presented with a Google 3-Pack, consumers cited "being the first result on the page" the least often (36%). The most important factors cited are proximity (64%), familiarity with the brand (57%), rating (57%), and number of reviews (49%).**
HOW PROXIMITY SEARCH OPTIMIZATION WORKS
"Securing a spot in the 3-Pack on a consistent basis for hundreds or even thousands of a brand's locations can seem like an elusive goal, but it doesn't have to be," said Hedges.
Proximity search optimization is the process by which multi-location brands seek to improve their rank on search engines that use the user's location to suggest nearby businesses in response to keywords such as 'car loan near me.' Optimizing search ranking requires brands to adeptly manage all the signals that determine local search rankings including data accuracy; location profile completeness; ratings and reviews; on-page signals; and local-social publishing and advertising.
The full report "Impact of Google 3-Pack" is available for download on MomentFeed's website.
ABOUT MOMENTFEED
MomentFeed is the leading Proximity Search Optimization platform trusted by many of the largest multi-location brands in the restaurant, retail, automotive, hospitality, and financial services industries. Proximity Search Optimization is gaining significant interest from CMOs of multi-location, national brands and franchises as a way to show up locally, at the precise moment a customer has a need. MomentFeed makes it possible for national brands to execute hyperlocal marketing campaigns at scale – driving local awareness, in-store traffic, and more calls for appointments and orders.
Founded in 2010, MomentFeed is headquartered in Santa Monica, California. An Inc 5000 Fastest Growing Privately Held Company, it was also named a Comparably Best Company.
For more information visit http://www.momentfeed.com | Twitter | LinkedIn | Facebook
*Based on regression analysis of each listing, comparing volume of views and clicks when ranking in the Google 3-Pack, to times when it did not rank in the Google 3-Pack. Data shown is statistically significant at the 99% confidence level.
**Percent of respondents who considered each option "Extremely Important" or "Very Important" when choosing between businesses in the Google 3-Pack