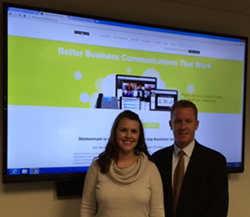 Sandy, UT (PRWEB) December 11, 2013
Telarus, Inc., distributor of business data, voice and cloud services, today announced that it has entered into an agreement with Momentum, a seasoned and top-rated VoIP provider. Under the agreement, Telarus partners will now have access to Momentum's broad portfolio of enterprise-level, feature-packed cloud solutions to organizations of all sizes through its reliable network and superior voice quality.
"Momentum is excited about the opportunity to partner with a master agent of this caliber and is dedicated to having a seamless roll out with the program," said President & CEO Bill Fox. "Since launching our initiative to boost our presence in the channel space, the Momentum partner support team has been tremendously successful in gaining traction in major markets and reaching resellers with great potential. That speaks to the breadth of Momentum's product offering, our reliability, and our exceptional service. With our focus on these strengths, Momentum is building an outstanding reputation in the marketplace and this step forward with Telarus is a continuation of that."
The Momentum difference includes:

Measurable Call Quality
Geo-redundant Architecture
100% Up-time
30-day money back guarantee
Telephony vendor of choice for more than 350 operators nationwide.
"We began looking at Momentum as more and more of our partners asked us to add them to our portfolio of best of breed suppliers. It quickly became clear they were a top notch company and that we needed to add them to our lineup," said Telarus' Vice President of Business Development Lanny Gray. "We are very excited about their products and services and are confident they will add increased value to our partners."
Leveraging its fully, geo-redundant telecommunications infrastructure and back-office capabilities, Momentum provides high quality, reliable and low-cost applications and is the telephony vendor of choice for more than 350 operators nationwide. Momentum's continued growth can be credited to its superior quality of service, large footprint, established track record of success in telephony, complete 24×7 Tier 1 support and flexible multi-vendor interoperability.
For more information about the Momentum - Telarus, Inc. relationship, please contact Austin Holverson, Business Development Manager for Telarus, at (877) 346-3232.
About Momentum
Momentum is a leading communications service provider that offers cloud-based solutions with advanced productivity features to customers who want the smartest solution, one designed to fit their exact needs wherever their communications takes them. Founded in 2001, Momentum now operates over 80,000 digital voice lines for more than 350 independent cable operators, municipalities, value added resellers, managed service providers and direct subscribers throughout the U.S. Backed by a commitment to quality and customer support, Momentum delivers geo-redundant, carrier-grade services using the BroadSoft 17.4 platform and is CLEC certified in 45 states. Momentum provides its customers with the flexibility and quality services needed from their communications provider. Learn more: http://www.telarus.com/carrier-information/momentum.html
About Telarus
Telarus, Inc., a value added distributor that holds contracts with the world's leading commercial telecommunication carriers, makes it easier and more profitable for solution providers, VARs, and MSPs to sell and source voice and data WAN solutions. Our patented GeoQuote platform combines real-time carrier pricing with advanced research features and branded proposals. Telarus' experienced Sales staff is strategically focused on enterprise WAN and high-capacity bandwidth solutions, making it easier to find the best offer, every time. For its part, Telarus has been named the top Master Agent by the members of the Telecom Association in each of the past three years, the first and only company in the carrier channel to accomplish this feat. Whether you are a top producer or a voice-and-data expert just starting out on your own, there is a place for you in the Telarus community. For more information on the Telarus partner program, please visit http://www.telarus.com or call the new partner hotline at 877-346-3232.