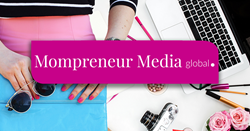 "It's really a win for everyone and extremely rewarding for coaches"
OLYMPIA, Wash. (PRWEB) February 14, 2019
Each month Mompreneur Media Global features a mompreneur to coach the other women in a topic of their expertise. Featured coaches have shared their knowledge on topics like branding, personal empowerment and marketing.
Mompreneur Media Group CEO Nicole Orozco said presenting a topic as a guest coach provides an excellent way for mompreneurs to learn from a supportive like-minded community, but it also provides a valuable opportunity for coaches to market their brand.
"It's really a win for everyone and extremely rewarding for coaches," Orozco said.
Indeed, guest coaches benefit from having their brand in front of tens of thousands of Mompreneur Media community members.
The community has already benefited from the likes of personal brand and mindset coach Martine De Luna, a former professional mommy blogger with 6-figure endorsements, who re-created herself after realizing her efforts weren't bringing her joy. After juggling her roles as mompreneur, wife, and mother became overwhelming, she learned to pursue a path to happiness. Now she helps other women put all the pieces together to create the business and life of their dreams.
Purpose, Alignment and Confidence coach, Jaclyn Roof has also participated as a guest coach helping women in the Mompreneur Media community find their purpose, embrace alignment, and boost their confidence. She's passionate about helping women find their hidden potential. Mompreneurs can expect from Roof advice on crushing limiting beliefs and up-leveling their confidence.
Potential guest coaches should visit Mompreneur Media and explore the community. For consideration as a guest coach reach out to nicci@mompreneuemedia.com
About Mompreneur Media Global
Mompreneur Media is a leading internet media company providing business services and editorial content designed to serve the needs of mom entrepreneurs. Through a variety of resources, we connect mompreneurs with solutions to some of the biggest obstacles facing today's entrepreneurs.