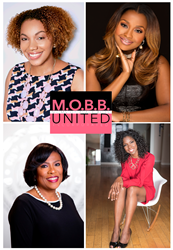 Our goal is to raise awareness of our critical efforts to embrace, elevate and encourage Black boys and men. - Depelsha McGruder, M.O.B.B. United, Founder and President
LOS ANGELES (PRWEB) June 13, 2019
In an effort to raise awareness about its mission to elevate positive images of Black boys and men while supporting moms of Black sons, M.O.B.B. United, the non-profit organization is ecstatic to welcome its newest ambassador and advocate, Actress Nicki Micheaux, who portrays "Sandra Thompson," the mother of an unarmed African-American man shot by police on Freeform's Good Trouble.
In commemoration of its third anniversary, M.O.B.B United will host initiatives at two highly-attended, cultural summer events. The organization will actively connect with women via a variety of dynamic touchpoints.
"Our goal is to raise awareness of our critical efforts to embrace, elevate and encourage Black boys and men. We are so excited to participate and have a presence at two major summer events that will allow us to connect with thousands of mothers, aunts, grandmothers and all women on a personal level, and galvanize the support of M.O.B.B. United, nationwide," said Depelsha McGruder, M.O.B.B. United founder and president.
The BET Experience is a weekend of events leading up to the Annual BET Awards Show hosted at the Microsoft Theater in Los Angeles, California, June 20-23, 2019. M.O.B.B. United will have a presence at the following events:

M.O.B.B. United Founder and President to moderate "How to Save our Black Boys" discussion during the "Uninterrupted Podcast" on Friday, June 21 at 9 p.m. in the Los Angeles Convention Center
Representation by Team BET at the BET Celebrity Basketball Tournament. Four teams will hit the court to compete for a $50K prize for charity. The team includes celebrities Tequan Richmond, Leland B Martin, Jackie Long, The Game, BlueFace, DDG, Sheck Wes and Frank Nitty
M.O.B.B. United interactive booth on Los Angeles Convention Center floor (Friday, June 21, 5 p.m. to 11 p.m. and Saturday, June 22, 11 a.m. to 8 p.m.)
The 25th Anniversary of the ESSENCE Festival will be hosted July 5-7, 2019 in New Orleans, Louisiana. The ultimate celebration of black culture is anticipated to draw more than half a million attendees. M.O.B.B. United will:
Commemorate its third anniversary with the annual "Champions of Change" Breakfast, Saturday, July 6, 2019, 8:30 a.m. to 10:30 a.m. at the JW Marriott (614 Canal St) in New Orleans. Honorees include TV Personality, Attorney, Social and Political Activist Phaedra Parks for her work with fatherless boys and her Save Our Sons program; Baton Rouge Mayor Sharon Weston Broome; and Monteria Robinson for her tireless quest in demanding justice for her son, Jamarion, who was killed in 2016 by police officers.
Host a booth at the Ernest M. Morial Convention Center where people can register for a membership (Friday, July 5 to Sunday, July 7, 10 a.m. to 6 p.m.)
Participate in a panel discussion on center stage to include:
Depelsha McGruder, Founder and President, M.O.B.B. United
Vanessa McCullers, Executive Director, M.O.B.B. United
Psyche Terry, CEO/Founder, Urban Hydration
Jodyann Pendergast, CEO, Essence of a Boss
Jamila T. Davis, Motivational Speaker, Activist
"Nothing is more important in my life than being a Mother to two amazing sons. For this, and so many other reasons, I am humbled and honored to be recognized by Moms of Black Boys United for lifting up women who are the cornerstone of our communities. Moments like this keep me inspired and I look forward to being a part of this special event," said Parks.
For more information, visit: https://www.mobbunited.org/default.aspx. Champions of Change breakfast tickets are available via: https://www.eventbrite.com/e/champions-of-change-breakfast-tickets-62964806431.
Press looking to cover the Champions of Change breakfast apply for media passes, here.
ABOUT M.O.B.B. United
Moms of Black Boys United, Inc. (M.O.B.B. United) provides information and support for moms of Black sons while promoting positive images of Black boys and men. These moms, representing every race, age, socioeconomic background, marital status, educational and professional level, are united in the goal of changing the perception of Black boys and men. M.O.B.B. United applies a multi-pronged approach that includes media campaigns and storytelling, education and engagement, political and economic empowerment, self-care, strategic partnerships, and sustained advocacy and community involvement.