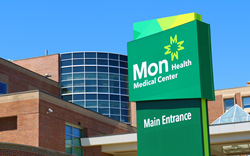 "We are so pleased to collaborate with AHN services and programs to enhance our offerings to our patients," said David Goldberg, president and CEO, Mon Health System.
PITTSBURGH (PRWEB) May 28, 2020
Officials with Mon Health System today announced that the Morgantown-based healthcare organization is joining the clinically integrated network (CIN) and the group purchasing organization run by Allegheny Health Network (AHN). Mon Health System will also collaborate with AHN's Cardiovascular Institute to establish a heart failure program at Mon Health Medical Center.
Known as Physician Partners of Western PA, AHN's CIN is a physician-led regional partnership of independent and AHN-employed physicians that coordinates care for nearly a quarter-million patients across various medical specialties and care sites. The CIN's goal is to promote the delivery of high-quality, high-value health care through evidence-based clinical models, value-based payer contracting and shared accountability that creates better patient outcomes and experiences.
Other benefits to Mon Health System of being part of Physician Partners include access to advanced clinical and claims-based analytics and predictive modeling (through integrated electronic medical records and claims data) and the opportunity to participate in Alternative Payment Models (APMs).
Mon Health System is also joining AHN's group-purchasing organization (GPO), which will enable the health system to secure better pricing and consistent sourcing for medical supplies. AHN's GPO currently leverages the consolidated purchasing power of more than 90 hospital members to negotiate lower costs for medical-surgical supplies, implantable devices, and other items.
"We are so pleased to collaborate with AHN services and programs to enhance our offerings to our patients. Many of our physicians have a longstanding relationship with peer physicians at Allegheny General Hospital and other AHN facilities, including the burn center at West Penn Hospital. We are honored to call AHN a partner in providing higher level services to our patients. We are excited to collaborate in the CIN and GPO to improve outcomes and reduce costs for our patients," said David Goldberg, President and CEO of Mon Health System.
Additionally, starting in June, AHN cardiologist and heart failure specialist Christopher Link, MD, will join the Mon Health Medical Center medical staff and begin a heart failure clinic at Mon Health Medical Center, bringing the advanced expertise of AHN's nationally recognized Cardiovascular Institute closer to home for the residents of Morgantown and neighboring communities. Dr. Link joined AHN in 2019 from Maine Medical Partners. He received his medical degree from the University of Miami's Miller School of Medicine and completed his residency and cardiology fellowships at the University of Pittsburgh Medical Center.
"Allegheny Health Network is always excited to collaborate with outstanding providers like Mon Health System who share our commitment to the highest standards of clinical excellence and value-based care," said Cynthia Hundorfean, President and CEO, AHN. "We look forward to working with the leadership of Mon Health System to help support their mission of service to the people of north central West Virginia."
About Mon Health System: Mon Health System is an integrated network of physician clinics, outpatient centers and hospitals in North Central West Virginia that works together to make health care more accessible and affordable to the communities it serves. It includes four hospitals – its flagship, Mon Health Medical Center in Morgantown; Mon Health Preston Memorial Hospital in Kingwood; Mon Health Stonewall Jackson Memorial Hospital in Weston; affiliate, Grafton City Hospital in Grafton; Mon Health Equipment & Supplies in Morgantown, Fairmont, and Weston; and The Village at Heritage Point. Mon Health System is also part of many Joint Ventures such as Healthworks, Acuity Hospital of Morgantown, Monongalia EMS, Amedisys Hospice, Care Partners, Encompass and the Mon Health Center for Outpatient Surgery to preserve choice, improve access and ensure the highest quality of care. For more information, visit monhealth.com.
About AHN: Allegheny Health Network (AHN.org), a Highmark Health company, is an integrated health care delivery system serving the greater Western Pennsylvania region. The network is composed of 12 hospitals, ambulatory surgery centers, Health + Wellness Pavilions, an employed physician organization, home- and community-based health services, a research institute, and multiple group purchasing organizations. AHN provides patients with access to a complete spectrum of advanced medical services, including nationally recognized programs for primary and emergency care, cardiovascular disease, cancer care, orthopedic surgery, neurology and neurosurgery, women's health, diabetes and more. AHN employs approximately 21,000 people, has more than 2,500 physicians on its medical staff, and serves as a clinical campus for Drexel University College of Medicine, Temple University School of Medicine, and the Lake Erie College of Osteopathic Medicine. Established in 2013, AHN's member hospitals share legacies of charitable care that date back more than 160 years.