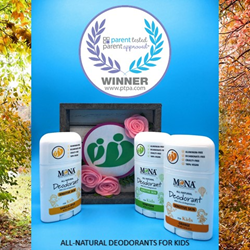 As a parent myself, I also care about what deodorant product my child should use, especially when there are so many on the market today that contain harsh chemicals which lead to skin irritation and other significant health issues
TAUNTON, Mass. (PRWEB) September 23, 2020
MONA Brands LLC, a company dedicated to offering innovative green, natural, clean, safe, and effective products to health and beauty conscious customers, is pleased to announce that MONA BRANDS All-Natural Deodorant for Kids has won the 2020 Parent Tested Parent Approved (PTPA) product seal of approval. The winners were announced this September by the organization.
Some of the key features that separates Mona All-Natural Deodorant for Kids from other brands is that it is 100% natural, with no baking soda, harsh chemicals, artificial fragrances or colors. It is made from plant-based ingredients and hand-crafted in the USA. With its Non-GMO, Vegan, and Cruelty Free formula, the Mona All-Natural Deodorant for Kids uniqueness lies in its ability to deodorize effectively and gently while moisturizing, vitalizing and aromatizing sensitive skin.
"The demand for natural, plant, and mineral-based personal products in on the rise. As a parent myself, I also care about what deodorant product my child should use, especially when there are so many on the market today that contain harsh chemicals which lead to skin irritation and other significant health issues," states Dr. Pinaki R. Majhi, Founder, President and CEO of MONA Brands. "My hope has always been that this product could provide relief for parents who want their child to have a good experience in deodorizing his or her body while being safe with minimal to no side effects."
How Winners Are Determined of PTPA Seal of Approval
Parents across North America participate in the testing process, at no cost to them. They evaluate the products with their families in real life environments rather than simply conducting a consumer vote which adds a trust component to the process. Their feedback and evaluations are carefully tallied and curated, and products that meet their standards earn the coveted PTPA Seal of Approval, which can be leveraged online on digital shelves, on packaging, advertising, end-cap displays, and more. News of the victory is shared among our community of over 200,000 families. The Parent Tested Parent Approved Seal of Approval ranks amongst the top most recognized seals in North America.
About PTPA Media Inc.
PTPA Media certifies innovative products that families can trust. By connecting manufacturers with consumers, PTPA Media helps companies serve their markets better, and helps families identify products that they can trust and recommend to their peers. For more information visit https://www.ptpa.com
About MONA Brands, LLC
Headquartered in Taunton, Massachusetts, MONA Brands offers all-natural, safe, scented and unscented deodorants that are made with ingredients from mother nature. All Mona Brands products are free from Aluminum, Propylene Glycol, Parabens, artificial fragrances, and other harsh ingredients. Founded by Dr. Pinaki R. Majhi, Ph.D., in 2017, MONA Brands is dedicated to being a leading provider of natural and herbal aluminum-free deodorants, skincare, and other herbal solutions. Dr. Majhi is a highly experienced product development professional with strong background in pharmaceutical and colloid chemistry with over 24 years of combined research and product development experience nationally and internationally. With his over sixty-five publications, and more than one hundred and twenty product development, reformulation, scale-up or manufacturing projects, Dr. Majhi's record of success in the cosmetic and pharmaceutical industries speaks for itself. All Mona Brands products are available at https://www.monabrands.com
Please visit MONA Brands Social media profiles:
Instagram: https://www.instagram.com/MonaBrandsNatural/
Pinterest: https://www.pinterest.com/MonaBrandsNatural/
Facebook: https://www.facebook.com/MonaBrandsNatural/
Twitter: https://twitter.com/MONABRANDS
LinkedIn: https://www.linkedin.com/company/mona-brands-llc/