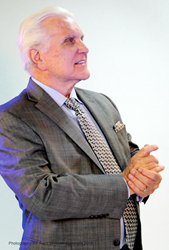 DALLAS (PRWEB) October 31, 2018
Money Doctor Neil Gallagher, founder, president, and CEO of Gallagher Financial Group Inc., as well as successful entrepreneur, investment counselor, and financial retirement planning specialist, is the winner of the Best of Los Angeles Award - "Best Financial Planner - 2018", according to Aurora DeRose, award coordinator for the Best of Los Angeles Award community.
"I'm so surprised and excited to have received this award," states Gallagher, "but I've always tried to have positive interactions with every client I've worked with, and it seems this award would reflect that."
Neil Gallagher has worked in the financial field for more than two decades, managing over one billion in assets and serving over one thousand clients world-wide. In addition, he also hosts weekly radio programs covering financial communication, the psychology of investing, wealth creation, family enrichment, and the importance of estate planning.
"You always have something more to learn," explains Gallagher, "but the experience I've received working in this industry has helped me in every single facet of my everyday life, and I'm just happy that I get a chance to share what I know with the world."
The "Best of Los Angeles Award" community was formed three years ago and consists of over 4,400 professional members living and working in Southern California. It celebrates the best people, places and things in Los Angeles with a slogan "No Ads. No B.S. Only the Best."
"The mission of the community is to celebrate the best of Los Angeles, and allow its community members to connect with other members who share the highest standards of quality and integrity," expresses DeRose. "We're honored to include Money Doctor Neil Gallagher into our BoLAA family."
Ed J., a member of Better Business Bureau, praises, "Doc Gallagher is always attentive and provides the successful results our family needs. He has performed according to his commitment, and is an extraordinary individual who cares both about financial and emotional needs."