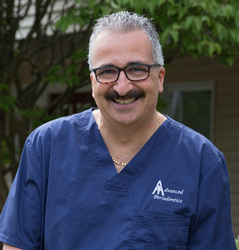 He really saved my teeth. I would have lost a lot of teeth if it wasn't for Dr. Amato.
MONROE, Conn. (PRWEB) August 08, 2019
Esteemed Monroe, CT periodontist, Dr. Richard Amato, was recently named Top Periodontist by Connecticut Magazine for the 8th consecutive year, and 10th time overall. Dr. Amato, who will celebrate 30 years at his practice this December, serves his community with the most leading-edge treatments and technology, including LANAP® laser gum surgery for gum disease, the Chao Pinhole® Surgical Technique for gum recession, and All-on-4® dental implants.
Every year, Connecticut Magazine features the top dentists throughout the state as recommendations for its readers. The candidates are selected by other Connecticut dentists. Connecticut Magazine sends questionnaires to every licensed dentist in the state, numbering over 3,000. The questionnaire asks dentists to identify who among their peers they would send a loved one to for each dental specialty, including general dentists, oral surgeons, and periodontists.
A highly respected periodontist, Dr. Amato is humbled to be recognized by his peers for 10 years in a row. His focus is to continue to offer the best possible periodontal services to his community. One of the more common services he performs is the minimally invasive LANAP laser gum surgery. LANAP uses laser physics to eliminate gum infection while keeping healthy tissue unharmed. This protocol not only treats gum disease, but it regenerates gum tissue so patients can restore their gums to their original health.
While the Top Periodontist award hypothetically asks who dentists would send a loved one too, the fact is that many dentists actually do recommend both loved ones and patients to Dr. Amato. "I have been coming to Dr. Amato's office for the past 12 years. I was experiencing severe gum disease, and my personal dentist recommended me," says Darlene, a loyal patient of Dr. Amato's. "He really saved my teeth. I would have lost a lot of teeth if it wasn't for Dr. Amato."
Those interested in receiving gum disease treatment or other specialized periodontal care can connect with Top Periodontist Dr. Amato. To learn more about Dr. Amato and the services he offers in his Monroe, CT practice, visit http://www.connecticutperiodontist.com or call 203-268-2000.
About the Doctor
Founder of Advanced Periodontics and Dental Implant Center of Connecticut LLC in Monroe, Connecticut, Dr. Richard Amato, and his associate Dr. Michael Kang, are leading periodontists and dental implant specialists who offer personalized care using advanced technology. He earned his DDS degree from Stony Brook University and his Certificate of Proficiency in Periodontics from Eastman Dental Center at the University of Rochester. Dr. Amato has placed thousands of dental implants. He is the first and most experienced provider of LANAP® laser gum disease therapy in Fairfield County, CT as well as the first periodontist in Connecticut to provide the minimally invasive gum recession treatment, the Pinhole® Surgical Technique. Dr. Kang is a board-certified Diplomate of the American Academy of Periodontology. He completed his residency in periodontology from Columbia University and has published numerous articles on implant dentistry. To learn more about Dr. Amato, Dr. Kang or the services they offer visit http://www.connecticutperiodontist.com and call 203-268-2000.