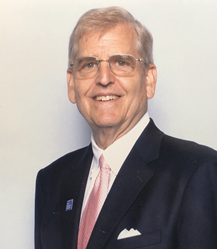 Being elected to the IARFC Board of Trustees is a distinct honor. It is my intention to put my experience, knowledge, and energy into helping the Association members of make a difference in the lives of the people they serve...Roey Diefendorf Jr., RFC®
MIDDLETOWN, Ohio (PRWEB) December 07, 2021
Roey Diefendorf, Jr., RFC® has had a career spanning over 50 years. He is the 4th generation of family advisors dating back to 1875. As now part of the Board of Trustees for the IARFC, he will bring his experience and dedication to advance the Mission of the Association.
His accomplishments are extensive in the industry – author, keynote speaker, educator, successful advisor, innovator in developing financial platforms. These technologies are available to qualified advisors who desire to go beyond merely helping clients make money, to making a legacy.
Roey continues to be "a man on a mission". The knowledge he brings to the Board will be welcomed as the Board deals with developing goals and plans for Association future growth. He recently has been honored by the IARFC with the Loren Dunton Lifetime Achievement award for 2021.
On his election Roey comments: "Being elected to the IARFC Board of Trustees is a distinct honor. It is my intention to put my experience, knowledge, and energy into helping the Association members of make a difference in the lives of the people they serve. I look forward to starting this new venture and am excited to be part of the leadership of this Board. Be on the lookout for a year of expansion and progress as we move to 2022."
Roey will be assisting in the task at hand for the entire board - to embrace 2022 as a transition year for the Association. In 2023, the current Chair, H. Stephen Bailey is retiring from his position and will be handing over years of IARFC policy changes that have put the Association on a stronger footing. This Board will be continuing on with a one, three, and five year plan in place, building upon a solid foundation from which to expand the IARFC's mission and vision.
"Part of my goal for the end of 2021 is to have a fully staffed Trustee Board with experienced, knowledgeable, and leadership-minded individuals to start off the new year," explains IARFC Trustee Chair, Dr. H. Stephen Bailey, MRFC®. "With Roey and our two other newly elected Trustees, I feel the IARFC has achieved this goal beyond measure. I look forward to relying on their guidance as we expand the influence and visibility of the Association in 2022"
For more information on the IARFC visit http://www.iarfc.org. Questions on membership and inquiries on serving the Association through volunteer roles can be directed to Susan Cappa, IARFC Public Relations at susan@iarfc.org