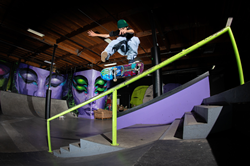 "Filipe has been absolutely shredding it lately and we're here to get some practice in. Let's get it!" Nyjah Huston in the opening of the video.
CORONA, Calif. (PRWEB) September 21, 2020
Upcoming street skating prodigy meets the winningest street skater of all time in the latest Monster Energy skate video release. Watch 13-year-old Brazilian ripper and Monster Army recruit Filipe Mota bring his skills to a unique session at reigning SLS world champion Nyjah Huston's private skate park in the new 'Shadow Day' video edit.
Released to global audiences across Monster Energy's social media channels today, 'Shadow Day' captures technical street skating at the highest level, courtesy of Mota and Huston. Filmed at the California Skateparks-designed private facility in San Clemente, California, the two-minute video offers a special look at one of the most talked about talents in street skateboarding.
"Filipe has been absolutely shredding it lately and we're here to get some practice in. Let's get it!" said Huston in the opening of the clip. "I had already met Nyjah before, that day at the park was so fun. Plus, it's so cool to get the chance to talk with one of the best skaters in the world," said Mota about the unique session.
Viewers can now go online and watch 'Shadow Day', live now on YouTube. Also make sure to read the back story featuring an exclusive Q&A with Mota on the Monster Army website.
Over the past years, Mota has emerged as part of a new generation of Brazilian talent alongside Monster Energy team rider and Olympics hopeful Rayssa Leal. At the mere age of 9 in 2016, Mota dropped his first full-length part 'Deemers Essencial' that put his name on the map. In 2019, Mota arrived in the U.S. and took third place among the top amateur riders in the Zumiez Best Foot Forward Competition finals in Los Angeles. After securing a list of top-shelf sponsors, Mota went viral after releasing a four-minute video skating The Berrics skatepark that has been viewed more than 1.4 million times to date.
With a new video part in the works, Mota came into the 2020 contest season fully motivated before the pandemic shut things down. "I just want to get done with my video part, that's the biggest plan. And I hope there will be more contests this year," said Mota.
Speaking of more contests this year, the session at Huston's park clearly showed that Mota has a few new tricks up his sleeve. Filipe will be the youngest skater to be featured in the X Games Real Street Best Trick contest – Huston will also release a video entry – dropping this month. But see for yourself! Watch the two-minute 'Shadow Day' edit, live now on YouTube to get your tech skating fix. And whatever you do, keep an eye on Mota because this kid is the future!
Download Photos for Editorial Use.
Also visit http://www.monsterenergy.com and follow Monster Energy on YouTube, Facebook, Instagram, Twitter for exclusive updates on Mota, Huston and our team of skateboarding athletes.
###
About Monster Energy
Based in Corona, California, Monster Energy is the leading marketer of energy drinks and alternative beverages. Refusing to acknowledge the traditional, Monster Energy supports the scene and sport. Whether motocross, off-road, NASCAR, MMA, BMX, surf, snowboard, ski, skateboard, or the rock and roll lifestyle, Monster Energy is a brand that believes in authenticity and the core of what its sports, athletes and musicians represent. More than a drink, it's the way of life lived by athletes, sports, bands, believers and fans. See more about Monster Energy including all of its drinks at http://www.monsterenergy.com.