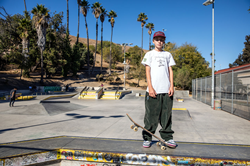 "I'm so excited that Filipe won! That is so well-deserved with a really great run. And I can't wait to see Filipe skate in the semi-finals in 2021 here at Tampa Am," said Andrew Cannon at Skatepark of Tampa (SPoT).
CORONA, Calif. (PRWEB) November 16, 2020
Monster Energy congratulates Filipe Mota on earning first place in the inaugural Global AMdemic amateur street skateboarding contest presented by Skatepark of Tampa (SPoT). In the digital skateboarding contest judged on the best runs filmed at locations across the world, the 14-year-old Monster Army recruit from Patos de Minas, Brazil, took the win among more than 500 video entries. Winning the first Global AMdemic earns Mota a $1000 cash prize as well as pre-qualification into the Semi-Finals at the Tampa Am 2021 street skateboarding contest.
Joining Mota on the podium, 14-year-old Monster Army recruit Daiki Ikeda from Tokyo, Japan, claimed second place with a technical run to win pre-qualification into Tampa Am 2021's Saturday Qualifier session.
Contested for the first time this year, Global AMdemic is an all-video skateboarding competition presented by Skatepark of Tampa (SPoT) with support from Monster Energy. After this year's Tampa Am contest was cancelled due to the Covid-19 pandemic, SPoT moved to a digital format to host an event with global participation. Global AMdemic 2020 was open and free to enter for amateur skateboarders from all over the world. Participants were asked to film their best 60-second runs at the street spot or skatepark of their choice between September 1 and 30. All entries posted on Instagram with hashtag #GlobalAMdemic were judged by a panel of skateboard experts.
On November 12, the winning skateboarders were announced in a special Skatepark of Tampa (SPoT) live webcast. The 90-minute show was hosted by Paul Zitzer and Andrew Cannon and featured commentary from official judges Kelly Hart, Mike Sinclair, and Monster Energy athlete Kelvin Hoefler from Brazil. Viewers can watch the Global AMdemic 2020 finals show here and the Semi-Finals broadcast here.
Prior to the finals, the judges had scored over 500 video entries from across the world before choosing 30 semi-finalists. In a web broadcast on October 9, the SPoT team narrowed the field to the final 12 skaters, who were then received an October 30 deadline to each film a new 60-second final run.
When all was said and done, Monster Army recruit Mota convinced the judges with a stacked winning run filmed at Chevy Chase Park in Los Angeles: Starting off with a kickflip backside Smith Grind the rail, Mota connected backside 180 heelflip over the kicker, Halfcab heelflip noseslide the ledge, kickflip backside tailslide the tall Hubba ledge, blunt kickflip fakie the quarter pipe, Caballerial heelflip the hip, backside 180 kickflip up the Euro Gap, and a big flip frontside boardslide shove-it down the rail as the final banger for a 97.00-point score and first place.
"I'm so excited that Filipe won! That is so well-deserved with a really great run. And I can't wait to see Filipe skate in the semi-finals in 2021 here at Tampa Am," said Andrew Cannon at Skatepark of Tampa (SPoT).
Over the past years, Mota has emerged as part of a new generation of Brazilian skateboarding talent. At the mere age of 9 in 2016, Mota dropped his first full-length part 'Deemers Essencial' that put his name on the map. In 2019, he arrived in the U.S. and took third place among the top amateur riders in the Zumiez Best Foot Forward Competition finals. Footage of Mota went viral after the release of a four-minute video skating The Berrics skatepark that has been viewed more than 1.4 million times to date. He also recently appeared in a Monster video edit filmed at Nyjah Huston's private skatepark.
Second place in the first-ever Global AMdemic also went to a young Monster Army recruit: When all scores were counted, 14-year-old Daiki Ikeda earned a 95.67-point score for a line filmed at Shin-Yokohama Park. Ikeda's ultra-technical run included bigspin frontside boardslide, kickflip backside Smith Grind, bigger spin kickflip frontside boardslide, and backside 270 kickflip frontside lipslide 270 out on the pyramid rail. He also covered the rest of the park with 360 double kickflip the pyramid, frontside blunt, frontside kickflip and blunt kickflip the quarterpipe, frontside Halfcab kickflip the hip, and backside noseblunt 360 out the bowl corner.
Also making a strong entry in the finals, Monster Energy Japan team rider Keyake Ike took home sixth place in the first Global AMdemic contest. In a line filmed at Shin-Yokohama Park, the 19-year-old from Osaka, Japan put together a gap to backside noseblunt slide over the pyramid to rail, frontside 270 noseblunt the pyramid rail, frontside nosegrind pop out the quarterpipe, backside nollie bigspin heelflip the pyramid, frontside crooked across and down the pyramid rail, bigspin the hip, and switch frontside feeble 180 out the flat bar for 89.00 points.
Joining him in the Top 10, Monster Brazil team rider Gabriel Fortunato claimed eighth place with a run filmed at Cecap Skatepark. In his video segment, the 22-year-old from Sao Paulo landed backside kickflip backward nosegrind the Hubba, fakie kickflip switch crooked the ledge, backside nollie flip to fakie the hip, backside 270 ollie frontside tailslide the Hubba, and big flip frontside boardslide fakie the podium ledge for 85.00 points. Ikeda, Fortunato and Ike earn prequalification into the Tampa Am 2021 Saturday Qualifier session for placing in the final twelve.
Download High Res Photos for Editorial Use.
Viewers can go online and watch the Global AMdemic 2020 finals show on the official SPoT YouTube channel. You can also use the following links for direct access to final runs by Mota, Daiki Ikeda, Keyaki Ike, and Gabriel Fortunato. Congratulations to our riders and thanks to Skatepark of Tampa (SPoT) for hosting this event amid the adversities of the global coronavirus pandemic.
Also visit http://www.monsterenergy.com and follow Monster Energy on YouTube, Facebook, Instagram, Twitter for exclusive updates on Filipe Mota, Daiki Ikeda, Keyaki Ike, Gabriel Fortunato, and our team of skateboarding athletes.
###
About Monster Energy
Based in Corona, California, Monster Energy is the leading marketer of energy drinks and alternative beverages. Refusing to acknowledge the traditional, Monster Energy supports the scene and sport. Whether motocross, off-road, NASCAR, MMA, BMX, surf, snowboard, ski, skateboard, or the rock and roll lifestyle, Monster Energy is a brand that believes in authenticity and the core of what its sports, athletes and musicians represent. More than a drink, it's the way of life lived by athletes, sports, bands, believers and fans. See more about Monster Energy including all of its drinks at http://www.monsterenergy.com.