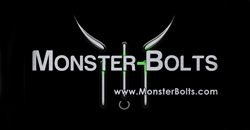 The demand for our products has been constantly rising since modern day manufacturers are looking to equip their workshops with top class and reliable fasteners. We have always been at the forefront offering best in class services and products to clients.
GULF BREEZE, Fla. (PRWEB) February 06, 2020
Monster Bolts, the global online fastener superstore that offers a comprehensive range of products including U.S. and Metric screws, nuts, washers and others has recently announced its decision to strengthen its market presence by further expanding its product line of fasteners to better meet the existing and future requirements of its customers. The company is the premier supplier of U.S. and metric fasteners and offers the same in varied sizes, shapes and materials and is quickly expanding their waterproof sealed electrical connector line.
Sharing more information regarding their business plans, a spokesperson at Monster Bolts stated, "We are a global fastener superstore with massive goals for the near and long term. Currently we are supplying full lines of Alloy Steel and Stainless Steel with an ever-growing Titanium fastener line. We have partnered with the biggest names in the industry in an effort to strengthen and bolster our business further. We now look forward to providing competitive pricing, near-instant shipping and unparalleled customer service. We also plan to constantly improve our services and efficiency and get competitive by expanding our product line even further. Last year we aggressively launched into self-drilling TEK screws and sealed electrical connectors and plan to further expand that market segment in 2020."
It must be noted that Monster Bolts was established to meet the growing demands for metric fasteners across varied industries including chemical, automotive, military, construction, communication, electric and other business verticals. Besides U.S. and Metric screws, nuts & washers, the company also specializes in offering Socket screws, Socket Cap screws, Set screws, Hex Bolts, Machine screws, sheet metal screws (both self-tapping and self-drilling), Deck screws and other types of nut as well as washers. The company is widely recognized for its heavy-duty class 12.9 alloy steel, A2 stainless and 316 marine grade stainless products.
With years of experience and vast knowledge in the area of metric nuts & bolts supplying, Monster Bolts is capable of providing quick solutions for multiple fastener applications. The company's global reach coupled with their focus on latest technology, innovation and quality has helped them in meeting the needs of customers. Monster Bolts' emphasis on developing strong customer and partner relationship has enabled them in acquiring top position with the fastener supplying industry. Currently, the company is an excellent position to embrace global developments and is committed to playing a pivotal role in the growth & advancement of the industry.
The company has a quick and reliable shipping policy and ships all the orders within 24 hours and also has a same day order delivery provision for clients who place their orders early. All products are delivered via the USPS carriers and offers affordable shipping rates. In addition to this, Monster Bolts also has a smooth and hassle-free order return policy for its customers. Customers can return unused products within thirty days of their purchase.
Monster Bolt works closely with its partners to source US made fasteners as well as components required to meet client specifications. The company ensures that all parts and components are readily available for supplying to manufacturers.
Through partnering and collaboration with their customers, Monster Bolts ensures end-to-end services and timely supply of fasteners and related products. The company is dedicated to exceeding the highest standards of quality and delivery, providing business value to their customers. Monster Bolts values its customers and direct all their efforts to fulfil their needs.
Sharing details about their commitment towards quality, the spokesperson further clarified, "The demand for our products has been constantly rising since modern day manufacturers are looking to equip their workshops with top class and reliable fasteners. We have always been at the forefront offering best in class services and products to clients. Our products boast of latest design standards & quality that facilitate our customers including leading manufacturers and production companies."
Established in 2012, Monster Bolt has been designing products that help customers speed up their processes and achieve operational efficiency. The company has been delivering best fasteners solutions that enable businesses to meet their production timescales with great speedy and accuracy.
Based in Florida, the company has also adopted a stringent inspection process whereby all its fastener products are checked for any malfunctions that often result in massive downtimes. Every fastener, screw and other products are checked for efficiency and performance. Additionally, defective fasteners are removed before delivering and the products are also inspected for scratches, burrs, head cracks, thread damages etc. The fasteners, screws, bolts, screw caps and nuts are also thoroughly checked for dimensional measurements including lengths, thread parameters, radii, diameter, straightness as well as recess depts.
For more information about our company and products, visit https://monsterbolts.com/!