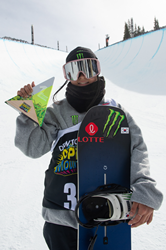 "I'm so happy and proud of myself." Gaon Choi
COPPER, Colo. (PRWEB) February 27, 2023
This is what storming the podium looks like! Monster Energy congratulates its team of snow sports athletes on a strong performance in the 2023 Winter Dew Tour Copper Mountain competition in Colorado this weekend.
In Saturday's Women's Snowboard Superpipe final, 14-year-old Gaon Choi from Seoul, South Korea, clinched her second major 2023 season win with a perfect run. Monster Energy riders claimed the two top spots in Men's Ski Superpipe, with 25-year-old Brendan Mackay from Calgary, Canada, taking first place and 32-year-old David Wise from Reno, Nevada, in second. The new Ski Super Streetstyle contest saw 25-year-old Colby Stevenson take first place, joined on the podium by Alex Hall from Park City, Utah, in third place. Also, in Ski Super Streetstyle, Canadian rookie Edouard Therriault brought home the Papa John's "Flip It Award" for the night's best trick. In the competitive Men's Snowboard Superpipe final, 24-year-old Ayumu Hirano from Murakami, Japan, earned a dominant victory. He also received the U.S. Air Force Snowboard Highest Air award for a 22.8 feet aerial as well as the U.S. Air Force MVP Award.
From February 24-26, 2023, the iconic Copper Mountain resort in the Rocky Mountains hosted a flurry of men's and women's ski and snowboard competitions. More than 60 of the world's top athletes competed in Superpipe, Super Streetstyle, and a new Superpipe High Air & Best Trick Jam presented by U.S. Air Force.
Here are the highlights for team Monster Energy at Dew Tour Copper Mountain 2023:
Women's Snowboard Superpipe: Monster Energy's Gaon Choi Soars into First Place
For Saturday's Women's Snowboard Superpipe final, the legendary Copper Mountain Superpipe with its 22-foot high walls was running smoothly under blue skies. The international roster of riders featured a brand-new podium threat: 14-year-old Gaon Choi from Seoul, South Korea, came to Copper Mountain after her surprise victory at X Games Aspen 2023. And she had no issues maintaining that winning trajectory.
Facing heat from 11-year-old snowboarding prodigy Patti Zhou from China, Choi displayed calm and strategy beyond her years by steadily raising the risk level in her runs. On Run 3, the teenage phenom secured the win by combining switch backside 900 mute, Cab 720 melon, huge frontside 1080 melon, and switch 900 melon on the last wall for 98.33 points and the Dew Tour Copper Women's Superpipe title.
"I'm so happy and proud of myself," said Choi, 14, upon winning Women's Snowboard Superpipe at Dew Tour Copper Mountain.
At X Games Aspen 2023 in January, Choi made history as the youngest competitor to take Snowboard SuperPipe gold at X Games and the first Winter X Games medalist for South Korea. She trains with Monster Energy team rider and snowboard phenom Chloe Kim.
Before stepping into the pro leagues, Choi won the 2022 World Junior Snowboarding Championships and was undefeated across four amateur-level halfpipe events on the 2022 FIS Revolution Tour.
Men's Freeski Superpipe: Monster Energy's Brendan Mackay Takes the Win, David Wise Earns Second Place
The wins kept coming in the Men's Freeski Superpipe final. In a heated session, 25-year-old Brendan Mackay from Calgary, Canada, proceeded to put down consistent runs with airs executed above 18-feet high while constantly increasing the difficulty level – all the way to claiming the victory!
After breaking the 90-point score barrier on Run 3, Mackay clinched the victory on Run 4 by putting together a big switch alley-oop double flatspin 900, switch double cork 1080 truck driver, huge rightside tailgrab 900, left double cork 1260 tailgrab, into a clean rightside double cork 1260 mute for 93.00 points.
"It means a lot. I've never won Dew Tour, and I'm very stoked to add it to my repertoire," said Mackay, 25, upon taking the win at Dew Tour Copper 2023. "It was great skiing today, and everyone was putting it down. Thanks for coming out everyone."
It's been a successful season for the Canadian: Before coming to Copper Mountain, Mackay claimed second place at the Mammoth Grand Prix event in California. Mackay finished the 2022/23 FIS World Cup season and Crystal Globe race in second place behind American Birk Irving in the top spot.
Also rising to the podium, 32-year-old David Wise from Reno, Nevada, came to Copper Mountain after earning his fifth X Games gold medal in Superpipe at X Games Aspen 2023. Starting his Dew Tour appearance with a perfect first run, the veteran and two-time Olympic gold medalist rose all the way to second place.
In his highest-scoring run, Wise put down switch right 900 tailgrab, switch down the pipe left double cork 1080, rightside tailgrab 900, and a combo of back-to-back double 1260 mute both ways for 87.00 points.
"I'm 32 years old now, and everyone keeps calling me the old guy. But the reality is I wouldn't be out here if I wasn't enjoying it," said Monster Energy's Wise.
Team USA's Wise is a two-time Olympic champion (2014, 2018) in Freeski Halfpipe and owns five X Games gold medals in the discipline.
Ski Super Streetstyle: Colby Stevenson Claims First Place, Alex Hall Finishes in Third Place
This year's Streetstyle event featured an upgraded course at double the previous size, spawning the new title Ski Super Streetstyle. When all was said and done, one rider had the perfect bag of tricks and creative combos for the course on Saturday night: 25-year-old Colby Stevenson from Park City, Utah.
Throughout the final contested in an elimination format, Stevenson displayed his consistency and diverse trick selection across the course featuring rails, pole jams, transfer options, and a quarterpipe. In the first heat, Stevenson put down a big backside 360 switch-up with a transfer right 450 switch pretzel 270 for 86.66 points and a ticket to the next round.
When the format switched to head-to-head matchups, Stevenson retained the upper hand against Sam Zahner by landing a big switch backslide and creative transfer disaster to coast into the finals. Maintaining his edge, Stevenson put down his best runs when it counted and earned the win with highlights such as Pretzel 450 off the waterfall rail in the upper section, blind 360 Switchup on the transfer, and right 450 out for 92.99 points.
Stevenson won gold in Slopestyle and Big Air in his X Games debut in 2020. He has also earned nine World Cup podiums in slopestyle since 2017 and brought home silver in Ski Big Air at the 2022 Winter Olympics.
Also rising to the podium, 24-year-old Alex Hall from Park City, Utah, earned third place by putting his unique technical riding skills on full display. In the first heat, the Olympic gold medalist in Ski Slopestyle landed Double transfer up in the first section, switch lip 270 Back 450 out for 81.33 points.
Facing Andrew Egan in the head-to-head round, Hall earned his way into the final by landing nose butter 450 on the first rail, switch right 270 continuing 270, left backside switch up, and finally, his signature switch 270 on, switch 270 out. In the final, Hall dealt with some wobbly landings and received 70.00 points and third place.
End of story? Not quite! The Streetstyle event also contested Papa John's "Flip It Award" for the night's best trick. Rising to the challenge, 20-year-old Edouard Therriault from Lorraine, Canada, stoked the crowd and judges with a unique move: A huge Rodeo 540 on the wallride at the bottom of the course netted the trophy for the Canadian.
Men's Freeski Superpipe: Monster Energy's Ayumu Hirano Earns Dominant Victory
The Men's Snowboard Superpipe final on Sunday turned into a nail-biting drama when Ayumu Hirano struggled to get a clean run on his first two attempts. But on the third run, the 24-year-old from Murakami, Japan, finally found his flow and secured the lead with 93.00 points. He even upped the ante on his fourth and final run for a dominant win.
In his highest-scoring fourth run, Hirano put together a huge frontside double cork 1440 mute into a switch double cork 1440 mute, hyper-extended slob crippler, and a finishing combo of corked backside 1260 and frontside 1260 for 96.66 points, and the win.
When it came time to crown the winner of the U.S. Air Force Snowboard Highest Air award, Hirano clinched the top spot for landing a massive 22.8 feet aerial. And rounding out the trophies, Hirano clinched the U.S. Air Force MVP Award for best rider of the weekend.
At Dew Tour Copper Mountain 2021, Hirano made history as the first rider to land a triple cork aerial in competition. Hirano, who also competes at an Olympic level in Skateboard Park, earned the gold medal in Snowboard Halfpipe at the 2022 Beijing Winter Games.
Visit http://www.monsterenergy.com for exclusive updates during the 2023 snow sports season, including photos, videos, and contest results as they happen. Follow Monster Energy on YouTube, Facebook, Instagram, Twitter and TikTok for exclusive behind-the-scenes looks and athlete features.
###
About Monster Energy
Based in Corona, California, Monster Energy is the leading marketer of energy drinks and alternative beverages. Refusing to acknowledge the traditional, Monster Energy supports the scene and sport. Whether motocross, off-road, NASCAR, MMA, BMX, surf, snowboard, ski, skateboard, or the rock and roll lifestyle, Monster Energy is a brand that believes in authenticity and the core of what its sports, athletes, and musicians represent. More than a drink, it's the way of life lived by athletes, sports, bands, believers, and fans. See more about Monster Energy including all of its drinks at http://www.monsterenergy.com.