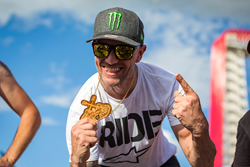 I just go big. I blast around the ramp in different directions and somehow I'm always able to come up with something I haven't done before - Jamie Bestwick
Austin, Texas (PRWEB) June 04, 2016
When the smoke settled it was none other than Monster Energy's ageless Jamie Bestwick, who at the age of 44 earned his 14th total X Games gold and his record 13th in BMX Vert. With a flair for new tricks, Bestwick's originality and amplitude ultimately earned him the win.
Austin, which has been a bullseye for flash flooding the past week, was able to dodge another bout of severe weather that has plagued south Texas recently, allowing ideal conditions on the vert ramp for a field of BMX riders from around the world.
After a stretch of nine straight golds before being dethroned last year by Monster Energy teammate Vince Byron at the X Games Austin, Bestwick took to the ramp on his first run with the trademark intensity that has shown why he is arguably the best vert rider the sport has ever seen.
"Vince Byron was a great champion last year—he deserved it," said Bestwick. "But, coming out as a champion I knew how hard his position was, and for me, being a contender, I knew how hungry I had to be. I guess this win ties me up with Dave Mirra with the number of most gold medals won, so to be alongside Dave Mirra, like I was in 2001 when I came in is amazing. Dave Mirra was the X Games and will always be the X Games."
Dropping in it was apparent that age hasn't slowed the sports most decorated athlete as he flew into a huge invert before teeing off with an alley-oop downside tailwhip that saw him float from one end of the ramp to the other.
"I just go big," said Bestwick. "I blast around the ramp in different directions and somehow I'm always able to come up with something I haven't done before."
That "something he's never done before" was a run ending alley-oop 540 tail whip in which he floated backwards across the pipe covering some serious ground in the process. As he smiled atop the ramp looking at his wife in the crowd it was easy to see the judges would award him accordingly. Earning a score of 90.66 his originality, coupled with the fact that he never went lower than 8 or 9 feet his entire run put him atop a field of young and upcoming talent.
Asked about the future and progression of the sport afterward, Bestwick's excitement grew beyond his collection of yet another career defining accomplishment and into an appreciation for the sport that has given him so much.
"Kids today are insane," he said. "You can't stop it. You just want to enable it because for future generations what I'm doing today will be their starting point." With a smile he added, "When they run with that it's going to be insane."
For now however, Bestwick will have to be patient and accept that in fact, he is still the best.
For more visit http://www.monsterenergy.com and Monster Energy Facebook this week to score all the exclusive updates from X Games Austin 2016 including photos, videos, and contest results as they happen. Follow us on Instagram and Twitter and search #UnleashedAtX for exclusive behind-the-scenes looks in Austin.
###
About Monster Energy
Based in Corona, California, Monster Energy is the leading marketer and distributor of energy drinks and alternative beverages. Refusing to acknowledge the traditional, Monster Energy supports the scene and sport. Whether motocross, off-road, NASCAR, MMA, BMX, surf, snowboard, ski, skateboard, or the rock and roll lifestyle, Monster Energy is a brand that believes in authenticity and the core of what its sports, athletes and musicians represent. More than a drink, it's the way of life lived by athletes, sports, bands, believers and fans. See more about Monster Energy including all of its drinks at http://www.monsterenergy.com.