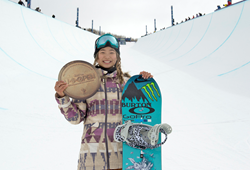 I just wanted to send it! The great thing about landing your first run is that you have a chance to clean it up later - Chloe Kim
(PRWEB) March 05, 2016
Monster Energy's Chloe Kim continued her meteoric rise to the top of women's halfpipe riding today with a win at the 2016 Burton US Open. Showcasing her unrivaled amplitude, Kim took the pipe by storm setting the bar at an unprecedented height for women riders winning her first ever victory at the prestigious event.
Entering the final leg of the competition season, Kim has successfully dominated the sport this year. With wins at the Dew Tour, X Games Aspen, The US Grand Prix, The Youth Olympic Games as well as a convincing victory last week at X Games Oslo, today was no different as Kim put down yet another run for the history books.
To ask for better conditions would have been impossible as the midday sun and epic conditions greeted the field of women riders during Saturday's halfpipe finals. Matched with spring-like temperatures it was game on as the competition got underway at the iconic Vail Ski resort in Eagle County Colorado.
Against a field of the world best including defending US Open champion Kelly Clark, Chloe Kim got straight to business on her first run setting the bar for the rest of the afternoon. As a goofy footed rider, Kim dropped into her backside wall with an almost unreasonable amount of speed boosting the highest air of the competition with a clean method air. Without scrubbing any speed she then launched in to her history making back to back 1080's, the first a frontside tail grab followed by the same trick done riding switch on her next hit. Kim, who was not only going much higher than anyone in the pipe, often around the 15-foot mark, was also traveling 25-30 feet in distance as well, then blasted a frontside 540 indy grab to round out her run.
A shocked crowd greeted her with the afternoons loudest applause as she commented later, "I just wanted to send it!," before going on to add, "The great thing about landing your first run is that you have a chance to clean it up later."
As the afternoon pressed on other riders came and went each failing to match Kim's first run score until the teen phenom found herself in a familiar position standing atop the pipe, the recipient of a victory lap. Never one to tone it down just because she has the win, Kim stayed true to her word and cleaned up her first run repeating it trick for trick only higher, with cleaner grabs and even more polished style. Topping her initial score by a full three points, Kim was awarded an 89.37 and ultimately, the victory.
"It's insane!" she exclaimed at the bottom of the pipe. "I didn't know what to expect after hitting my face in qualifying and having to sit out a couple days earlier this week, but with conditions being so perfect it's been a huge opportunity for us girls to put down some of our best runs ever."
In its 34th year, some consider the Burton US Open the premier event in professional snowboarding, though to Kim it appeared to be just another event to dominate.
That said, "What's next for Kim."
"Well, I've got one more event in China but then it's time to go back home and do some school," she replied.
That's right, we have to remember she's only 15-years-old!
For more on Kim visit http://www.monsterenergy.com. Follow Monster Energy's Facebook, Instagram & Twitter.
###
About Monster Energy
Based in Corona, California, Monster Energy is the leading marketer and distributor of energy drinks and alternative beverages. Refusing to acknowledge the traditional, Monster Energy supports the scene and sport. Whether motocross, off-road, NASCAR, MMA, BMX, surf, snowboard, ski, skateboard, or the rock and roll lifestyle, Monster Energy is a brand that believes in authenticity and the core of what its sports, athletes and musicians represent. More than a drink, it's the way of life lived by athletes, sports, bands, believers and fans. See more about Monster Energy including all of its drinks at http://www.monsterenergy.com.