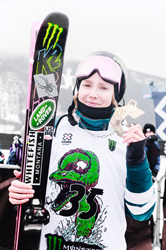 HAFJELL RESORT, Norway (PRWEB) March 10, 2020
The fifth edition of X Games Norway is officially a wrap! Monster Energy, the official energy drink of X Games Norway 2020, congratulates its athletes on a strong performance at the world's premier action sports event. Over the course of two-action-packed days, the world-class team earned nine medals across Freeski and Snowboard disciplines, claiming three gold, three silver and three bronze medals. Visit monsterenergy.com for exclusive content on all the team's achievements.
This weekend's gold medal-winning performances included Monster Energy's Maggie Voisin from White Fish, Montana, who took gold in Women's Ski Slopestyle as her second gold in the discipline. In Women's Snowboard Slopestyle, rookie pro Zoi Sadowski-Synnott from New Zealand dominated the field to claim her second X Games Slopestyle gold. And in one of the weekend's biggest surprises, Canadian Monster rider Max Parrot showed his true grit as an all-round competitor by besting the world elite in the Monster Energy Men's Snowboard Slopestyle event.
Now in its fifth consecutive year and supported by Monster Energy as the official drink sponsor, X Games Norway 2020 showcased the highest level of progression in freestyle snow sports. The event was followed by a live audience at Hafjell Alpinsenter (about 120 miles north of Oslo) and connected live stream viewers worldwide.
Featuring the world's best athletes, the competition awarded 26 medals across Ski and Snowboard Big Air, Slopestyle as well as Knuckle Huck disciplines. The invite-only event saw 40 athletes from twelve countries battling for X Games medals. Rounding out an unforgettable weekend on the mountain, X Games Norway 2020 also featured concerts by hot musical acts Arif, Musti, Chris Abolade, and Alan Walker.
Day 1 Video Highlights
Day 2 Video Highlights
Here's how the action unfolded for team Monster Energy across Ski and Snowboard disciplines in Norway this weekend:
Monster Energy riders started claiming medals in Saturday's Women's Ski Big Air final. Battling overcast skies and low visibility, 21-year-old Maggie Voisin rose to the podium by putting down leftside double cork 1260 safety grab, leftside Rodeo 900 Japan grab, switch leftside 720 nosegrab and rightside 900 tailgrab. Her silver medal marked Voisin's personal best in Big Air competition to date, and she had more in store for Sunday's Ski Slopestyle final.
Continuing Saturday's podium run, the Monster Energy Men's Snowboard Big Air final saw an epic showdown between Max Parrot and fellow Canadian Mark McMorris.
After losing the handle on his first two attempts over the massive Big Air jump, Parrot managed to regain his momentum with a perfect Cab triple cork 1620, backside 1620, and frontside triple cork 1620 mute. But due to the new judging format determining winners based on overall impression, the 25-year-old from Bromont, Canada, had to settle for silver and hope for another shot at gold in Sunday's Snowboard Slopestyle event.
Max Parrot still holds the record for most medals in the history of X Games Snowboard Big Air (6 gold, 4 silver). He was joined on the all-Canadian podium by his Monster Energy teammate Darcy Sharpe. The 23-year-old from Comox, British Columbia, earned bronze with versatile aerial moves including frontside double cork 1440, backside triple cork 1440 mute, and a highly technical switch backside double cork 1260 tailgrab and now owns four X Games medals (1 gold, 2 silver, 1 bronze).
The second day of X Games Norway 2020 continued the team's medal run in the competitive Women's Snowboard Slopestyle final. Contested in the new 32-minute jam format, the event saw 19-year-old Zoi Sadowski-Synnott from Wanaka, New Zealand, clinch the lead on her first run – and never let it go. Tech rail moves like backside bluntslide to backside 180 sameway and boardslide pretzel together with aerial bangers including switch backside double cork 900 stalefish earned the rookie her second X Games Slopestyle gold.
Also rising to the podium, Japanese snowboard phenom Kokomo Murase came into the contest as the youngest competitor at 15 years of age. She still emerged with a silver medal on the strength of rail moves such as pole jam Indy grab and frontside lipslide 270 out, plus frontside double cork 900, frontside 720 stalefish, and a backside 1260 with a slightly imperfect landing. After what is only her fourth X Games appearance, Murase now owns five X Games medals (1 gold, 3 silver, 1 bronze) across Slopestyle and Big Air disciplines. Definitely keep an eye on this teenager!
Monster Energy also struck gold in the international Women's Ski Slopestyle final featuring riders from seven countries. American Maggie Voisin displayed the right mixture of difficult tricks and consistency to claim the gold medal. Despite rain, fog and warm temperatures, the Montana native worked the rails with backside 270 left disaster and left 270 on 270 off, followed by aerials such as rightside 720 tailgrab, leftside Rodeo 900 Japan, and switch leftside 900 safety grab for the win. Having already won Slopestyle in 2018 as the first American rider in X Games history, Voisin now owns seven X Games medals (2 gold, 2 silver, 3 bronze).
Voisin was joined on the podium by Monster Energy's Giulia Tanno, who earned a bronze medal in the heated final session. Rail moves like a 450 off and aerials including switch 900 tail grab to an awesome double cork 1080 safety grab convinced the judges and stoked the crowd at Hafjell Alpinsenter. Tanno's X Games track record now boasts four medals (2 silver, 2 bronze) and she recently claimed the FIS 2019/20 Big Air World Cup crystal globe trophy as the top rider of the season.
In the day's biggest surprise, Max Parrot went blow-for-blow against Mark McMorris in the Monster Energy Men's Snowboard Slopestyle final. Determined not to leave Norway without a gold medal, Parrot put down four impeccable runs featuring tech rail tricks such as gap backside 360 to 50-50 the kink rail and a pole jam Wildcat backflip. In the jump section, the Canadian put down hammers including backside triple cork 1440 melon and a Cab triple 1620 Indy grab to claim what is only his second Slopestyle gold after his win at XG Aspen 2014.
This weekend's Big Air silver and Slopestyle gold bring Max Parrot's X Games medal count to 13 medals (8 gold, 5 silver). Joining him on the podium, Norwegian local Ståle Sandbech earned his way into the top three on the strength of diverse tricks and creative lines in his runs. Rail section highlights such as backside 180 to switch 50-50 and Miller flip spine transfer together with backside double cork 720 and backside 1440 mute earned the 26-year-old from Rykkinn, Norway, the bronze medal. Sandbech now holds six X Games medals (2 silver, 4 bronze) and is also a bona-fide Olympic medalist (Slopestyle silver at Sochi 2014).
Download photos from X Games Norway 2020 for editorial use.
Overall, the Monster Energy team dominated on the final day of X Games Norway 2020 by claiming three gold medals in the four events contested on Sunday. With the world's best Ski and Snowboard athletes bringing the stoke to Scandinavia, this fifth edition of X Games Norway ended the 2019/20 snow season on a high note. Thanks to the crew at ESPN and Hafjell Alpinsenter for putting on a spectacular show followed by fans across the globe. And thanks to everyone for tuning in – see you next time!
X Games fans who missed the action at X Games Norway 2020 this weekend can re-watch all live broadcasts on the official X Games YouTube channel.
Viewers in the United States can also look forward to watching the 'Best of X Games Norway 2020' anthology as part of World of X Games on ABC Television. Part 1 of 'Best of X Games Norway 2020' will air on March 14, 1:00 p.m. ET and Part 2 on March 21, 1:00 p.m. ET on ABC.
Visit http://www.monsterenergy.com for exclusive recaps from X Games Norway 2020 including photos, videos, and contest results. Follow Monster Energy on Youtube, Facebook, Instagram, Twitter for exclusive behind-the-scenes looks in Norway.
###
About Monster Energy
Based in Corona, California, Monster Energy is the leading marketer and distributor of energy drinks and alternative beverages. Refusing to acknowledge the traditional, Monster Energy supports the scene and sport. Whether motocross, off-road, NASCAR, MMA, BMX, surf, snowboard, ski, skateboard, or the rock and roll lifestyle, Monster Energy is a brand that believes in authenticity and the core of what its sports, athletes and musicians represent. More than a drink, it's the way of life lived by athletes, sports, bands, believers and fans. See more about Monster Energy including all of its drinks at http://www.monsterenergy.com.