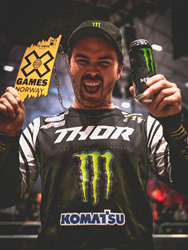 It feels amazing! I have always wanted to be on the same level as Travis Pastrana, and here I am doing it! Tyler Bereman and the boys brought the heat today. I worked hard for this and I'm stoked to be back on top. Jarryd McNeil
OSLO, Norway (PRWEB) September 01, 2019
That's how you crush it! Monster Energy congratulates its team of freestyle motocross athletes on a dominating performance at X Games Norway today, taking home a total of five medals in three Moto X disciplines (2 gold, 2 silver, 1 bronze). In Moto X Best Trick, 27-year-old Jackson Strong from Lockhart, Australia, took home his sixth gold in the discipline, joined on the podium by Monster Energy teammate Josh Sheehan in bronze position.
The highly contested Moto X Best Whip event saw 28-year-old Jarryd McNeil from Yarrawonga, Australia, claim his ninth X Games gold medal, which ties him with motocross icon Travis Pastrana for most Moto X gold in X Games history. The Best Whip podium also included 30-year-old Genki Watanabe from Osaka, Japan, who earned silver with a masterful demonstration of air and style. Rounding out a dominating motocross performance at X Games Norway 2019, 23-year-old Axell Hodges from Encinitas, California, returned from injury to claim silver in Moto X QuarterPipe High Air.
Now in its fourth year and supported by Monster Energy as the official drink sponsor, X Games Norway showcased a unique mixture of action sports in today's ten-hour event: The world's best athletes across Ski, Snowboard, Skateboard and – for the first time at X Games Norway – Freestyle Motocross disciplines battled for X Games medals at Telenor Arena in front of a live audience and connected viewers worldwide. Here's how the motocross action unfolded:
Monster Energy Moto X Best Trick: Jackson Strong Reclaims Gold Medal
As the first medal event of the day, the Moto X Best Trick final kicked off the action at Telenor Arena. The roar of engines reverberated throughout the stadium as six of the world's best riders attacked the kicker ramp over the massive gap into a dirt landing. With only two attempts per rider to post a top score, the pressure was turned to the maximum.
Strong came to Oslo fresh off a silver medal at X Games Minneapolis 2019. Known as a dominant force in Moto X Best Trick – he has never finished lower than second place – Jacko was on his A-game today and gave the high-energy crowd a spectacular air show.
Straight out the gate, Strong took the lead with a highly technical no-handed frontflip, landed perfectly for 95.00 points. But facing Australian motocross freestyle powerhouse Rob Adelberg closely on his heels with just a single point difference, Jacko needed some extra points to seal the deal. He found it on run two by posting an even more perfect no-handed frontflip – taking his hands off the handlebar for the entire rotation – over the dirt gap for 96.00 points and the gold medal.
"It just comes down to training and hard work, but at the end of the day it could be anyone's game. So I guess I got lucky a few times," said Strong upon winning Moto X Best Trick gold in Oslo today, adding: "It's a gnarly sport and if everyone comes away safe at the end, it's a happy day. There are a lot of young fans here today in this lovely country and it's exciting for the future of the sport."
Joining Strong on the all-Aussie podium, Monster Energy teammate and fellow Australian motocross pioneer Josh Sheehan took the bronze medal on the strength of two heavy-hitting aerials. On run one, Sheehan put down a no-handed double backflip – a signature Sheehan move – for 93.33 points and a strong third-place finish. This marks the eleventh medal for the Australian motocross innovator – known for landing the world's first and only triple backflip on a motorbike – and comes on the heels of taking Moto X Freestyle silver and Best Trick bronze at X Games Minneapolis 2019 in early August.
Speaking of medal counts, Strong is now also the proud owner of eleven X Games medals (six gold, four silver, and one bronze). Today marks Jacko's sixth Moto X Best Trick gold medal and he has medaled every single time he has competed in the discipline. Aside from his Best Trick dominance, the inventor of the
'Jack Body Varial' move has evolved into a podium threat in Moto X Freestyle and took home silver in Snowbike Best Trick at X Games Aspen 2018.
Moto X Best Whip: Jarryd McNeil Takes Back the Top Spot Earning Gold
When the action moved into Moto X Best Whip, the crowd was treated to the ultimate mixture of style and aerial skills. Eight of the world's best riders attempted to land the most contorted 'Whip' aerials – throwing their bike sideways in the air – over the massive dirt gap for a spot in the final four.
The Whip is a fundamental move in freestyle motocross. But each rider does whips in his or her own unique style, with variations including seat-bounce whips and turndown whips. Variety was the key to moving ahead in Oslo today, as scores were awarded not only on the strength of a single strong whip, but an overall impression of covering the entire stylistic spectrum.
Once the judges tabbed up their scores, Monster Energy's Genki Watanabe and Jarryd McNeil advanced into the four-rider final. Each rider received only three attempts to build a score – a major change from the jam-session format of previous Best Whip events – to raise the pressure in this spectacular aerial showcase.
Taking home Best Whip gold was the main thing on McNeil's mind after having settled for third place at X Games Minneapolis 2019. Especially because this was his shot to tie motocross icon Pastrana for claiming the most gold medals in X Games history. Not to mention getting a rematch in the finals against Tyler Bereman, who took Best Whip gold at X Games Minneapolis 2019.
Charging full speed at the launch ramp, McNeil started the final on a high note with a signature seat-bounce whip, contorting his body to a point where his head dipped underneath his bike in the air. On his second attempt, McNeil proved his versatility by stomping a fully inverted turndown whip, pointing his front wheel back at the take-off ramp in mid-air. Ultimately, McNeil sealed his victory with another signature style seat-bounce whip on his final attempt for the gold medal, which now ties him with Pastrana for most motocross gold in X Games history.
"It feels amazing! I have always wanted to be on the same level as Travis Pastrana, and here I am doing it! Tyler Bereman and the boys brought the heat today. I worked hard for this and I'm stoked to be back on top," said Jarryd McNeil on taking Moto X Best Whip gold in Norway today, adding: "Thanks Norway, this X Games has been amazing!"
Today's gold medal brings McNeil's X Games medal count to 15 medals total (9 gold, 3 silver, 3 bronze).
He has now surpassed BMX athlete Vince Byron (14 medals) as the most decorated Australian athlete in X Games history and just recently claimed gold in Moto X Step Up at X Games Minneapolis in early August.
Also making today's Moto X Best Whip podium, McNeil's teammate and Japanese motocross icon Genki Watanabe gave a masterclass in aerial style. Having already claimed Best Whip silver at X Games Minneapolis 2018, the 30-year-old stoked the crowd with massive seat-bounce whips and a high-flying turndown whip that landed all the way at the bottom of the ramp. When all was said and done, the judges awarded Genki Watanabe with a well-earned silver medal finish, his second X Games silver.
Moto X QuarterPipe High Air: Monster Energy's Axell Hodges Back from Injury to Take Silver
As the final competition at today's X Games Norway, Moto X Quarterpipe High Air saw competitors attacking a steep quarterpipe looking to land the highest possible airs into a 24-foot banked landing obstacle. The event was contested in a 15-minute jam session format with five of the world's best motocross freestyle aerialists taking turns to see who can take it the highest.
Monster Energy's Axell Hodges ranges among the top competitors in the high air event, especially after earning the gold medal at X Games Minneapolis 2018 with a monstrous aerial. But X Games Norway was Hodges first contest after a serious injury: In July 2019, Axell suffered a heavy fall in his attempt to break the motorcycle distance jump world record on the "Evel Live 2" TV show on the History Channel. But the 23-year-old stepped to the plate in Oslo as if the fractured left ankle, sprained right ankle and left shoulder separation never happened.
The riders in tonight's finals upped the ante with every turn, continuously soaring higher above the quarterpipe in front of the high-energy crowd. Ultimately, it came down to a head-to-head battle between Australian Corey Creed, reigning gold medalist from X Games Minneapolis 2019, and Monster Energy's Hodges.
With Creed setting the bar high at 12.39 meters (equal to 40.64 feet), it all came down to the seventh and final attempt of the night for Hodges. Putting his entire weight behind takeoff for an extra lift, Hodges hoisted his bike into the air to max out at 11.93 meters (39.14 feet) for a strong silver medal finish in a worthy finale to an action-packed day in Oslo.
Download photos for editorial use.
X Games fans in the United States who missed the action today can tune in tomorrow: The entire broadcast will re-air on Sunday, September 1, on the ESPN News channel starting at 7:00 AM EST. Additionally, ABC Television will air highlights coverage as part of the World of X Games series, kicking off with 'Best of Ski & Snowboard at X Games Norway 2019' on September 8 at 2:00 PM EST, followed by 'Best of Skateboard & Moto X at X Games Norway 2019' on September 15 at 2:30 PM EST.
Visit http://www.monsterenergy.com for exclusive content from X Games Norway 2019 including photos, videos, and contest results. Follow Monster Energy on Youtube, Facebook, Instagram, Twitter for exclusive behind-the-scenes looks in Oslo.
About Monster Energy
Based in Corona, California, Monster Energy is the leading marketer and distributor of energy drinks and alternative beverages. Refusing to acknowledge the traditional, Monster Energy supports the scene and sport. Whether motocross, off-road, NASCAR, MMA, BMX, surf, snowboard, ski, skateboard, or the rock and roll lifestyle, Monster Energy is a brand that believes in authenticity and the core of what its sports, athletes and musicians represent. More than a drink, it's the way of life lived by athletes, sports, bands, believers and fans. See more about Monster Energy including all of its drinks at http://www.monsterenergy.com.