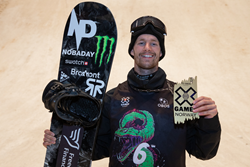 I have been living a nightmare for the past months and was dreaming to be able to just be here today. I only had two months to get in shape for today, which is almost impossible. Getting this medal is like getting the candy at the end. I'm living the dream today!" Max Parrot
OSLO, Norway (PRWEB) September 01, 2019
The level of progression in Ski and Snowboard is literally through the roof – and X Games Norway 2019 showcased the world's best riding in both fields. Monster Energy congratulates its team of ski and snowboard athletes on a dominating performance at Telenor Arena in Oslo today with a total of six medals across four competition events.
In the highly contested Men's Snowboard Big Air final, 25-year-old Max Parrot from Bromont, Canada, returned to the snowboard competition after battling cancer to claim his sixth X Games gold medal. He was joined on the podium by 24-year-old Sven Thorgren from Stockholm, Sweden, in silver position. The Women's Snowboard Big Air final saw 14-year-old Japanese snowboard phenomenon Kokomo Murase take the silver medal in a field of heavy hitters.
The podium spots continued into the Men's Ski Big Air final, where 28-year-old Henrik Harlaut from Åre, Sweden, unleashed a never-seen-before trick to claim second place. He was joined by Monster Energy teammate and 25-year-old Canadian rookie Alex Beaulieu-Marchand taking home the bronze medal. Rounding out a dominant snow sports performance, 21-year-old Giulia Tanno from Lenzerheide, Switzerland took silver in Women's Ski Big Air.
Now in its fourth year and supported by Monster Energy as the official drink sponsor, X Games Norway showcased a unique mixture of action sports in today's ten-hour event: The world's best athletes across Ski, Snowboard, Skateboard and – for the first time at X Games Norway – Freestyle Motocross disciplines battled for X Games medals at Telenor Arena in front of a live audience and connected viewers worldwide.
The sheer fact that snow sports were featured at X Games Norway – in the month of August! – marks an impressive achievement. Over the course of nine days, the X Games team in Oslo constructed the massive artificial snow jump that reached all the way through the arena's roof. Riders dropped into the dry-slope ramp from outside the arena, starting on a small platform on top of a tall tower accessed by elevator and landing in front of the stoked crowd below. Here's how the action unfolded across ski and snowboard disciplines today:
Women's Snowboard Big Air: Monster Energy's Kokomo Murase Takes Silver
As today's first snow sports medal event, the Women's Snowboard Big Air final saw six of the world's best freestyle snowboarders throwing their most technical aerials over the massive gap. Each rider received only three attempts to put together a winning score composed of the best-scoring backside and frontside-turning tricks, leaving little room for error.
Adding to the challenge, the surface of the dry slope drop-in ramp lost its smoothness as the contest went on, creating unpredictable conditions for today's finalists.
Setting the bar high, Austria's Anna Gasser took the lead on her first attempt and the level of trick difficulty escalated from there on out.
No stranger to competitive finals, last year's gold medalist and Japanese snowboarding prodigy Kokomo Murase came to Oslo as a podium favorite. On her first attempt, the 14-year-old kicked things off on a solid note with a perfect backside 720 mute over the gap for 34.33 points. She raised the bar on her second attempt by sending a highly technical frontside double cork 900 Indy for 43.33 points.
But with Gasser taking over the lead, it all came down to the third and final attempt for Murase: Putting it all on the line, she pulled a double cork 1260 – the trick that won gold in 2018 – over the gap, but could not stick a clean landing. With a final score of 77.66 points, Murase claimed silver as her second X Games medal (1 gold, 1 silver), while Anna Gasser took the win.
Hailed as one of the new faces of snowboarding progression, the future looks bright for Murase: At X Games Norway 2018, she became the youngest Winter X Games athlete to win X Games gold at the age of 13. At the same time, she made history as the first girl to land a 1260 double cork in a competition.
Also putting on a strong show in Oslo today, Monster Energy's Jamie Anderson stoked the crowd with a switch frontside 540 mute – charging down the rough drop-in ramp backwards – and a perfect frontside 720 over the gap. But after missing the landing on her technical Cab double 900, the most decorated woman in X Games history had to settle for fifth place and could not add to her impressive count of 16 X Games medals (5 gold, 7 silver, 4 bronze).
Women's Ski Big Air: Monster Energy's Giulia Tanno Claims Silver
Keeping the snow action going, the crowd at Telenor Arena was on its feet for the highly contested Women's Ski Big Air final. With six of the world's best female freeski riders hitting the Big Air ramp today, X Games Norway was once again the place to witness the incredible progression in this discipline.
Respected as one of the key drivers of freeski's progression, Monster Energy's Giulia Tanno had claimed silver at last year's X Games Oslo. But her 2019 season was off to a rough start when she fractured her left ankle and tore a ligament in late February. Today marked the first competition for the freshly recovered 21-year-old – and the level of competition was intense.
Putting the rest of the field on notice right on her first attempt, Tanno stomped a perfect backside double cork 1080 safety grab for 44.66 points. But even though she followed up with a progressive frontside 900 tailgrab – spinning two-and-a-half rotations – over the gap, a glitchy landing resulted in a 30.33-point score. With a combined total of 74.99 points, Tanno took home a well-earned silver medal, bringing her X Games total to three medals (2 silver, 1 bronze).
Closely missing the podium, Tanno's Monster Energy teammate and fellow Swiss freeskier Sarah Hoefflin brought her technical skills to the battle, but struggled to post a clean landing on the dry-slope course. On her first attempt, Hoefflin lost the handle on a switch 1080 rotation and lost a ski landing a mute 900 on run number two. Although she landed a perfect cork 900 for 39.99 points, the Olympic gold medalist (Slopestyle at PyeongChang 2018) had to settle for fourth place and could not add to her X Games medal count of one gold and one silver.
Men's Snowboard Big Air: Monster Energy's Max Parrot Reclaims the Top Spot
When the action moved into the highly contested Men's Snowboard Big Air final, all eyes were on Big Air icon and Monster Energy team rider Max Parrot from Bromont, Canada.
His return to the contest stage was an emotional one: After having been diagnosed with Hodgkin Lymphoma cancer, Parrot had to miss all recent snowboard events, including X Games Aspen 2019. He merely completed his last chemotherapy treatment in late June and was left with only a few weeks to prepare for today's contest.
But known for his strong work ethic and iron will, Parrot was set on showing the crowd in Oslo his A-game. Straight out the gate, he sent a mind-boggling Cab triple cork 1620 Indy over the gap, earning him 47.00 points and an early lead. Keeping the strong momentum going as the crowd cheered him on, Parrot put down a technical frontside triple cork mute with a perfect landing for 44.00 points, putting his final score at 91.00 points for the win.
"I have been living a nightmare for the past months and was dreaming to be able to just be here today. I only had two months to get in shape for today, which is almost impossible. Getting this medal is like getting the candy at the end. I'm living the dream today!" said Parrot upon winning Men's Snowboard Big Air in Oslo, adding: "I'm a really motivated person. When I want something, I do anything I can to get it. I'm so happy right now."
Today's gold puts Parrot's career X Games count at ten medals (six gold, four silver). The Big Air pioneer is known for dropping the world's first cab-spinning quad cork and is also a podium threat slopestyle, where he has earned a silver medal. His last Big Air competition before his cancer diagnosis was at X Games Aspen 2018, in which he earned a gold medal, and it's great to see him back in the top spot.
Also claiming a podium spot in today's Men's Snowboard Big Air final, Swedish tech wunderkind Sven Thorgren stoked out the Scandinavian crowd – including his banner-waving 'Svennis' fan club – with his signature mixture of style and heavy rotations. On his first attempt, Thorgren opened strong with a signature backside 1440 stalefish grab for 43.00 points. After losing the handle on his second run, Thorgren landed a frontside triple cork mute to bring his overall score to 88.33 points for the silver medal, his fourth X Games medal (1 gold, 1 silver, 2 bronze).
Men's Ski Big Air: Monster Energy's Henrik Harlaut and Alex Beaulieu-Marchand take Silver and Bronze
As the day's last snow sports competition, the Men's Ski Big Air event went out with a bang. In a final session featuring eight of the world's best freestyle snowboarders, Monster Energy's Henrik Harlaut dug deep into his technical bag of tricks to unveil a move never seen before in competition: On his third and final attempt, he landed a perfect left double cork 1260 bio to safety grab for a whopping 43.00-point score.
On his first attempt, Harlaut – freshly returned to the contest arena after undergoing knee surgery in May this year – already posted a switch left 1440 mute for 40.00-points. Tricks like these, together with his winning personality and ultra-baggy basketball shorts, made Harlaut a crowd favorite in Oslo today, and his overall score of 83.00 points earned him a well-deserved silver medal right behind American Alex Hall in first place.
Today's Men's Ski Big Air silver medal boosts Harlaut's overall medal count to eleven (six gold and five silver). The 28-year-old Swede now ties his mentor, American freeski icon Tanner Hall, for most X Games ski medals. Due to his recent surgery, Harlaut only began riding again 14 days prior to X Games Norway. Known for his style and high-energy personality, he is also a podium threat in slopestyle and earned gold at X Games Aspen 2018.
Joining Harlaut on today's Men's Ski Big Air, Monster Energy rider Alex Beaulieu-Marchand 'ABM' had to fight a nerve-racking battle after taking a slam on his first attempt. Making every single one of his two remaining runs count, 'ABM' continued to send it over the gap with a switch left triple cork 1260 safety grab on run two for 38.33 points.
Following up with a highly technical double bio 1080 Cuban grab, 'ABM' brought his final score up to 79.66 points to claim the bronze medal in a worthy finish to a day of high-octane snow sports.
Download photos for editorial use.
X Games fans in the United States who missed the action today can tune in tomorrow: The entire broadcast will re-air on Sunday, September 1, on the ESPN News channel starting at 7:00 AM EST. Additionally, ABC Television will air highlights coverage as part of the World of X Games series, kicking off with 'Best of Ski & Snowboard at X Games Norway 2019' on September 8 at 2:00 PM EST, followed by 'Best of Skateboard & Moto X at X Games Norway 2019' on September 15 at 2:30 PM EST.
Visit http://www.monsterenergy.com for exclusive content from X Games Norway 2019 including photos, videos, and contest results. Follow Monster Energy on Youtube, Facebook, Instagram, Twitter for exclusive behind-the-scenes looks in Oslo.
###
About Monster Energy
Based in Corona, California, Monster Energy is the leading marketer and distributor of energy drinks and alternative beverages. Refusing to acknowledge the traditional, Monster Energy supports the scene and sport. Whether motocross, off-road, NASCAR, MMA, BMX, surf, snowboard, ski, skateboard, or the rock and roll lifestyle, Monster Energy is a brand that believes in authenticity and the core of what its sports, athletes and musicians represent. More than a drink, it's the way of life lived by athletes, sports, bands, believers and fans. See more about Monster Energy including all of its drinks at http://www.monsterenergy.com.