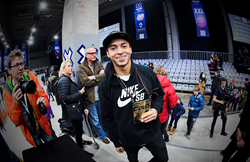 I'm so stoked, that was a gnarly contest. Everyone killed it so hard, making it really difficult for me. Shane's first run was insane! Congrats to all those guys. everyone killed it - Nyjah Huston
Oslo, Norway (PRWEB) February 25, 2016
Monster Energy congratulates Nyjah Huston on his well-earned gold-medal finish at X Games Oslo 2016 in Norway. In one of the closest finals in X Games history, the 21-year-old from San Juan Capistrano, California earned his 10th career X Games medal in front of a capacity crowd at the brand-new Skur 13 Skateboard Street venue in Oslo's Tjuvholmen (Thief Island) neighborhood. This marks Huston's fourth consecutive X Games Gold medal, while his Monster teammate Shane O'Neill took home Silver, celebrating his first-ever career X Games medal.
In the no-holds-barred finals session, six of the world's top street skateboarders–hailing from Brazil, Australia, and the U.S.–battled it out on the California RampWorks-designed street course. Stacked with handrails, banks, quarter pipes, two stair sets, a brick pyramid, and a replica of Oslo's famous "The Wave" street spot, the concrete course favored technical consistency and an eye for creative lines.
The finals raised the bar for technical difficulty ever seen in an X Games Street event, as Monster Energy's Huston and O'Neill went head-to-head for the top spot. Australia's O'Neill barged out the gate with a 92.00-point perfect run, including extremely difficult moves like switch backside lipslide down the A-frame rail, bigspin frontside boardslide and crooked to nollie flip on the big rail, and his signature nollie backside 180 heelflip down the big gap.
But Huston followed up with a flawless run of his own. Edging one point ahead of O'Neill, Huston combined fakie kickflip and 360 kickflip over the brick pyramid, backside 180 nosegrind, cab frontside boardslide, and bigspin frontside boardslide fakie down the big rail, nollie crooked across the flat bar, nollie frontside 180 heelflip up onto the Wave obstacle and half cab kickflip into the bank. For his spectacular ender, Huston gapped out using the Wave's kicker onto the rail below with a kickflip frontside boardslide, earning him 93.00 points.
Not ready to back down, O'Neill responded by peppering his next runs with more difficult moves, including a switch kickflip to backside lip down the A-frame and a nollie bigger spin down the big set – but could not string together another perfect run. Ultimately, Huston's 93.00-point score secured the victory, but he still upped the ante in his last run with moves like switch frontside kickflip and frontside bigspin over the brick pyramid, backside noseblunt slide over the flat bar, and backside 180 nosegrind revert down the big rail as a victory lap.
Upon winning Gold, Huston said. "I'm so stoked, that was a gnarly contest. Everyone killed it so hard, making it really difficult for me. Shane's first run was insane! Congrats to all those guys. everyone killed it."
Lots of high-difficulty moves went down during the first-ever X Games in Norway, offering plenty of inspiration to the locals for years to come: Because once the X Games wrap up, the world-class street course–protected from harsh winters inside a warehouse–will remain as a public skate park for Oslo's skate scene.
Prior to today's finals, Huston qualified in 1st place by covering the entire course with kickflip backside lipslide on the A-frame rail, switch frontside smith and backside 180 nosegrind on the big handrail, fakie flip over the brick quarter, and creative use of Oslo's "The Wave" obstacle, including a gap-out to frontside noseblunt slide onto the adjacent big rail. Closely missing the podium, Monster's Curren Caples floated across the course with a nollie noseblunt slide on the A-frame, half cab 50-50 and frontside noseblunt slide fakie on the big rail, and a huge alley-oop crossbone air into the bank for a strong 4th place finish.
It's a well-known fact that Huston made his X Games debut in 2006 at age 11, the youngest athlete in X Games history at the time. But it's little-known trivia that Huston is actually one-quarter Norwegian via his maternal grandmother, making the X Games Oslo 2016 somewhat of a home game. Today's gold finish marks his 10th X Games Skateboard Street medal and 7th gold, the most out of any skateboarder in X Games history.
Up next for Huston is the 2016 Street League Skateboarding World Tour with his Monster Energy teammates.
For more information visit http://www.monsterenergy.com this week to score all the exclusive updates from X Games Oslo 2016 including photos, videos, and contest results as they happen. Follow Monster Energy's Facebook, Instagram & Twitter for exclusive behind-the-scenes looks in Oslo.
###
About Monster Energy
Based in Corona, California, Monster Energy is the leading marketer and distributor of energy drinks and alternative beverages. Refusing to acknowledge the traditional, Monster Energy supports the scene and sport. Whether motocross, off-road, NASCAR, MMA, BMX, surf, snowboard, ski, skateboard, or the rock and roll lifestyle, Monster Energy is a brand that believes in authenticity and the core of what its sports, athletes and musicians represent. More than a drink, it's the way of life lived by athletes, sports, bands, believers and fans. See more about Monster Energy including all of its drinks at http://www.monsterenergy.com.