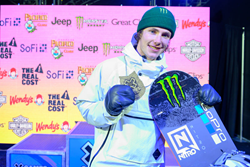 OSLO, Norway (PRWEB) August 28, 2019
Counting down the hours until the latest evolution of X Games kicks off in Oslo! Supported by Monster Energy as the official drink sponsor, the fourth edition of X Games Norway will present a never-seen-before mix of action sports in an exclusive one-day event this Saturday. The world's best athletes across Ski, Snowboard, Skateboard and – for the first time at X Games Norway – Freestyle Motocross disciplines will battle for X Games medals at Telenor Arena in Oslo this Saturday, August 31, 2019.
The spectacular one-day action sports showcase will be streamed live across the globe. Viewers in the United States can tune in to X Games Norway 2019 competitions via the ESPN App on Saturday morning, starting at 6:30 AM EST with the Skate Street Nordic Qualifier event. The live action from Telenor Arena will also be aired across ESPN's online streaming services around the world, with select shows also available on X Games YouTube, Facebook and Twitter.
With big snow airs, high-octane motocross stunts and technical skateboarding combined under one roof in Oslo for the first time, viewers can look forward to an unforgettable show. Accompanied by musical performances in a festival atmosphere, X Games Norway 2019 will feature the following competitions: Men's and Women's Ski and Snowboard Big Air, Men's and Women's Skateboard Street, as well as Moto X Best Trick, Moto X QuarterPipe High Air and Moto X Best Whip.
As the official drink sponsor of X Games Norway 2019, Monster Energy is looking forward to bringing the stoke to Norway with a heavy-hitting team of athletes in all disciplines. Watch out for the following headline competitors and key events:
X Games Norway 2019 will literally raise the roof, as a portion of the arena's ceiling has been removed to make way for a drop in leading to the Big Air snow ramp. A total of 32 athletes in Snowboard & Ski Big Air competitions will drop from outside Telenor Arena to hit the jump and land inside the arena in front of the stoked crowd. Prepare for maximum air time in Men's Snowboard Big Air when Monster's Sven Thorgren gets ready to improve on his bronze medal from X Games Aspen 2019. Also keep an eye out for Finnish rookie Rene Rinnekangas who caused an upset with a surprise silver medal slopestyle finish in Aspen this year and is hungry for more! Joining them on the mega jump will be Big Air pioneer and Monster Energy athlete Max Parrot, known for dropping the world's first cab-spinning quad cork and owner of five X Games gold medals.
In Women's Snowboard Big Air, all eyes will be on defending X Games Norway gold medal winner and snowboard phenom Kokomo Murase. At just 13 years old, Kokomo stunned the snowboard world last year by putting down a face-melting double cork 1260 – and she's been on a tear ever since.
Plus, don't count out the most decorated woman in X Games history, Monster Energy's Jamie Anderson, who is on a mission to add to her impressive count of 16 overall medals.
Adding to the spectacle in Oslo, Men's Ski Big Air will see Monster Energy's Alex Beaulieu-Marchand bring the heat after taking double silver in Big Air and Slopestyle at X Games Aspen 2019. Also ready to send the big airs is his teammate, British Big Air legend James Woods fresh off a bronze medal in Aspen 2019. And make sure to keep an eye out for Henrik Harlaut, who is hungry for precious metal after closely missing the podium in Aspen this year. And will this be the year Canadian rookie Evan McEachran claims his first-ever medal X Games after finishing in fourth place at Aspen 2019?
In Women's Ski Big Air, Monster Energy's Sarah Hoefflin is ready to showcase her aerial prowess after taking silver in Women's Ski Slopestyle at X Games Aspen 2019. Also sending it across the Big Air gap, her Monster teammate and Swiss freeski wunderkind Giulia Tanno returns as a podium threat after taking home Big Air silver at X Games Norway 2018.
In Men's Skateboard Street, the crowd in Oslo will witness the technical wizardry of certified podium threat Kelvin Hoefler from Brazil, who already has two X Games gold medals under his belt. As the latest addition to Monster Energy's skateboarding team, French rookie Aurelien Giraud is gunning for his first X Games medal after his surprise victory at Dew Tour Long Beach in June. Also look out for Thrasher Magazine Skater of the Year Ishod Wair, whose unique street skills earned him a bronze medal in 2016, as well as Canada's Matt Berger, a top competitor on the Street League Skateboarding circuit looking for his first X Games podium. Also prepare to cheer for the local hero, Monster Energy's Kevin Baekkel aka 'The Norwegian Hammer', who has been a constant on the European contest circuit and ready to put it down in Oslo. Unfortunately, Monster Energy's Nyjah Huston will be sidelined from competing at X Games Norway due to an ankle injury sustained only days after bringing home Best Trick gold at X Games Minneapolis 2019.
Last but not least, the debut of Moto X at X Games Norway will feature a stacked team of Monster Energy icons. In the Best Whip event, Australian motocross trailblazer and eight-time gold medalist Jarryd McNeil will be sending the most stylish and contorted sideways aerials, called 'whips', after claiming bronze in the event at X Games Minneapolis 2019. Also watch out for six-time X Games medalist Axell Hodges, fresh back after a heavy fall in his attempt to break the motorcycle distance jump world record on the "Evel Live 2" TV show on the History Channel. Also cranking up the heat in this display of style and mastery, look forward to freestyle motocross trailblazer Josh Sheehan, four-time X Games Best Whip medalist Edgar Torronteras, and Best Whip silver medalist Genki Watanabe.
In the progression-driven Moto X Best Trick event, Monster Energy's Jackson Strong is a strong contender after taking home silver at Minneapolis 2019 and his fifth Best Trick gold at X Games Shanghai 2019. Also aiming for a podium spot, Jacko's Monster teammate and fellow Australian Josh Sheehan swept up Moto X Freestyle silver and Best Trick bronze at Minneapolis 2019 and could claim his eleventh career medal in Oslo.
As the final event of the action-packed day, Moto X QuarterPipe High Air will take it to the next level at Telenor Arena. Prepare for history in the making in this high-energy event. Will Monster's Axell Hodges improve on his gold medal-winning 34-foot, 3-inch aerial from X Games Minneapolis 2018?
And let's not forget Jarryd McNeil, who is no stranger to high altitudes, but has yet to medal in Moto X QuarterPipe, as the world's best riders battle it out in Oslo.
Download photos for editorial use.
X Games fans in the United States can watch live competition coverage from the fourth edition of X Games Norway on August 31 on the ESPN app starting at 6:30 AM EST with the Skate Street Nordic Qualifier event. The entire broadcast will re-air on Sunday, September 1, on the ESPN News channel starting at 7:00 AM EST.
Additionally, make sure to tune in for highlights coverage on ABC Television as part of the World of X Games series, kicking off with 'Best of Ski & Snowboard at X Games Norway 2019' on September 8 at 2:00 PM EST, followed by 'Best of Skateboard & Moto X at X Games Norway 2019' on September 15 at 2:30 PM EST. Fans can also follow the latest news and highlights on ESPN's digital platforms, including XGames.com and X Games pages across YouTube, Twitter, Facebook and Instagram.
Visit http://www.monsterenergy.com for exclusive updates from X Games Norway 2019 including photos, videos, and contest results as they happen. Follow Monster Energy on Youtube, Facebook, Instagram, Twitter for exclusive behind-the-scenes looks in Oslo.
About Monster Energy
Based in Corona, California, Monster Energy is the leading marketer and distributor of energy drinks and alternative beverages. Refusing to acknowledge the traditional, Monster Energy supports the scene and sport. Whether motocross, off-road, NASCAR, MMA, BMX, surf, snowboard, ski, skateboard, or the rock and roll lifestyle, Monster Energy is a brand that believes in authenticity and the core of what its sports, athletes and musicians represent. More than a drink, it's the way of life lived by athletes, sports, bands, believers and fans. See more about Monster Energy including all of its drinks at http://www.monsterenergy.com.